Laminated PVB Acoustic Insulated Glass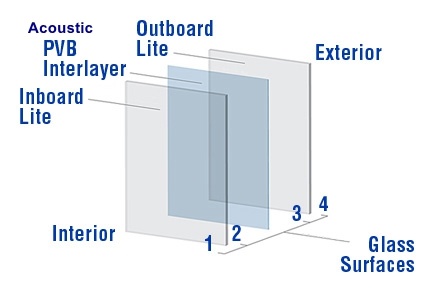 We use a special PVB acoustic film by brand Kuraray,Trosifol etc. This monolayer film product used in multiple insulating glass combines
outstanding sound protection properties with all the advantages of a conventional Acoustic PVB film. Even in monolithic laminated safety glass, Acoustic PVB film reveals its exceptional sound protection performance.
Acoustic inter-layers are laminated between toughening pieces of glass to produce a glazing unit with much improved acoustic performance.
The highly sound insulating PVB inter-layers are laminated between glass panels using normal interlayer lamination methods of heat and pressure creating a glass unit with a lower overall Rw value measured in Db
Every glass thickness and composition vibrates differently at different frequencies meaning that at some frequencies glass sound insulation can be very low. The introduction of an acoustic inter-layer into a glass construction reduces this 'critical frequency' effect in the glazed element meaning there is no dip in the glass performance for certain sound frequencies and increasing the overall sound insulation for an installation. The comparision chart as below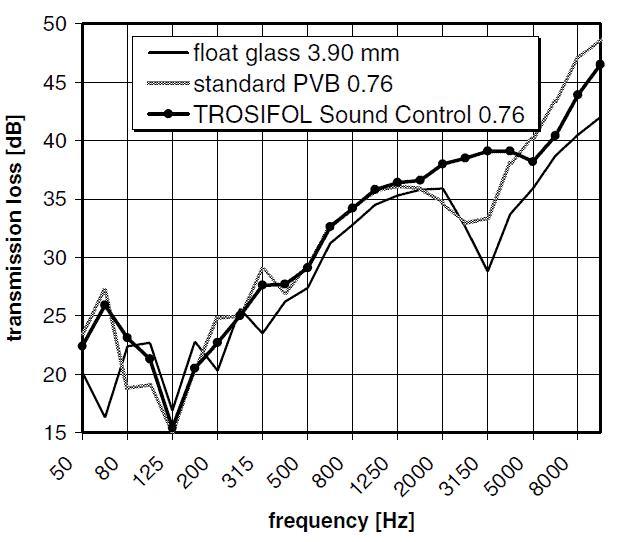 This PVB is designed with acoustic dampening properties, and is usually intended to
work against frequencies between 1500 and 5000 Hz.
Laminated Glass
is a type of safety glass that holds together when shattered. In the event of breaking, it is held in place by an interlayer, typically of polyvinyl butyral (PVB), between its two or more layers of glass.
Tempered laminated glass is normally used when there is a possibility of human impact or where the glass could fall if shattered. When broken by impact, tempered laminated glass tends to remain integral in its frame, minimizing the risk of injury from sharp edges and flying or falling glass particles, and strongly resists penetration by the impacting object or person.
* We have Australian certificate, AS/NZS standard; CE or TUV certificate and USA certificate, ANSI.
* Customized sizes and thickness are available.
Max. size 2440mmX11000mm, Min. size 50mmX100mm
* we can do hole drilling , edges polished well,various glass colors and PVB film colors are available.
Specifications
Glass thickness

3+3, 4+4, 5+5, 6+6, 8+8,10+10,12+12, 5+5+12,6+6+12 etc.

Acoustic PVB

00.76mm,1.14mm,1.52mm,etc. Brand

Kuraray,Trosifol,Dupont,Solutia,Sekisui

Glass color

Clear, bronze, grey, green, blue ,customized color and patterns by silk-screen printing

Glass type
raw float glass, tempered glass, refective glass,low E glass,Nano glass,color tinted glass,pattern glass etc.

Applications

Windows, doors, curtain wall, balcony, railling, partition, roof, ect

Form type
flat or bent /curved are available

Packing

wooden case or customized package.

Delivery time

7-15 days
Features
1. Extremely high safety:
The PVB interlayer withstands penetration from impact. Even if the glass cracks, splinters will adhere to the inter layer and not scatter. In comparison with other kinds of glass, laminated glass has much higher strength to resis t shock, burglary, burst and bullets.
2. Energy-saving building materials:
PVB interlayer impedes the transmission of solar heat and reduces cooling loads.
3. Create aesthetic sense to buildings:
Laminated glass with a tinted interlayer will beautify the buildings and harmonize their appearances with
surrounding views which meet the demand of architects.
4 Sound proof:
5. Ultraviolet screening:
The interlayer filters out ultraviolet rays and prevents the furniture and curtains from fading effect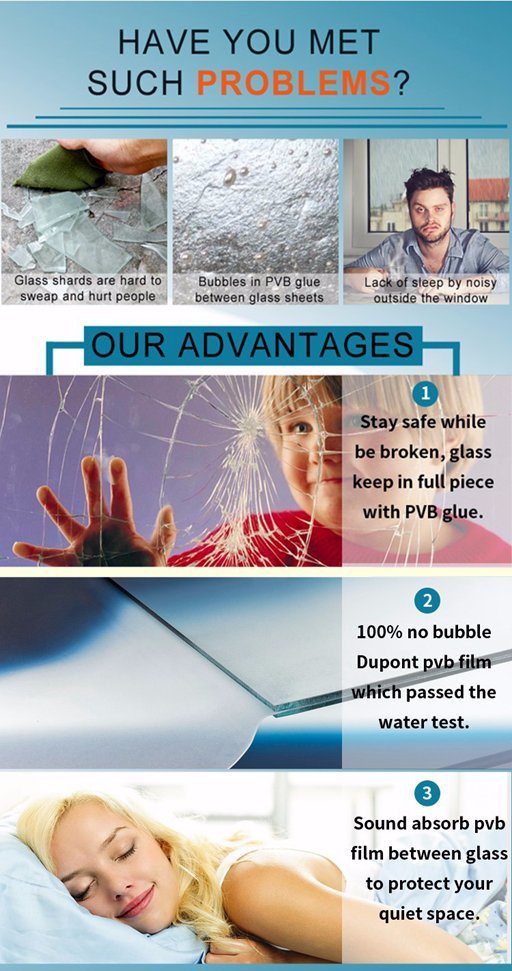 Our advantage
1.We strictly follow up quality administrative control system in every producing procedure and do last - every- piece inspection before packing , to guarantee the high quality of 100% of ordered quantity
2. Delivery on time and fast.
3. Very competitive price .
4. Professional sales for enough and timely communication on the process details, packing , delivery etc. no worry, no bother in business with us
Products & Processing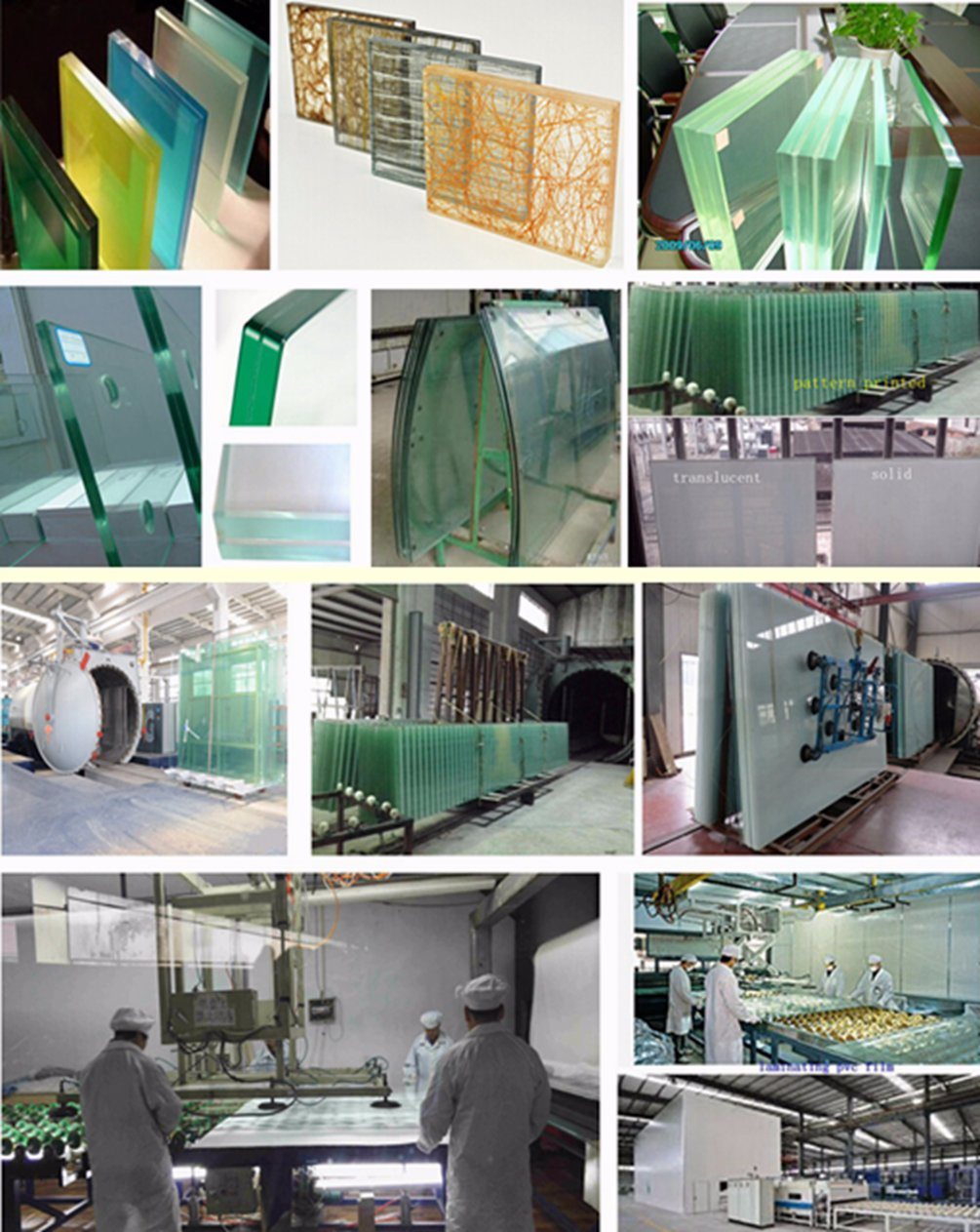 Our Project & Application
Doors, windows, curtain walls, and skylights for commercial and residential buildings, public facilities :
Schools,Home,Offices,Healthcare,Library,Hotels,Meeting Room
,Airport,train bus Station etc.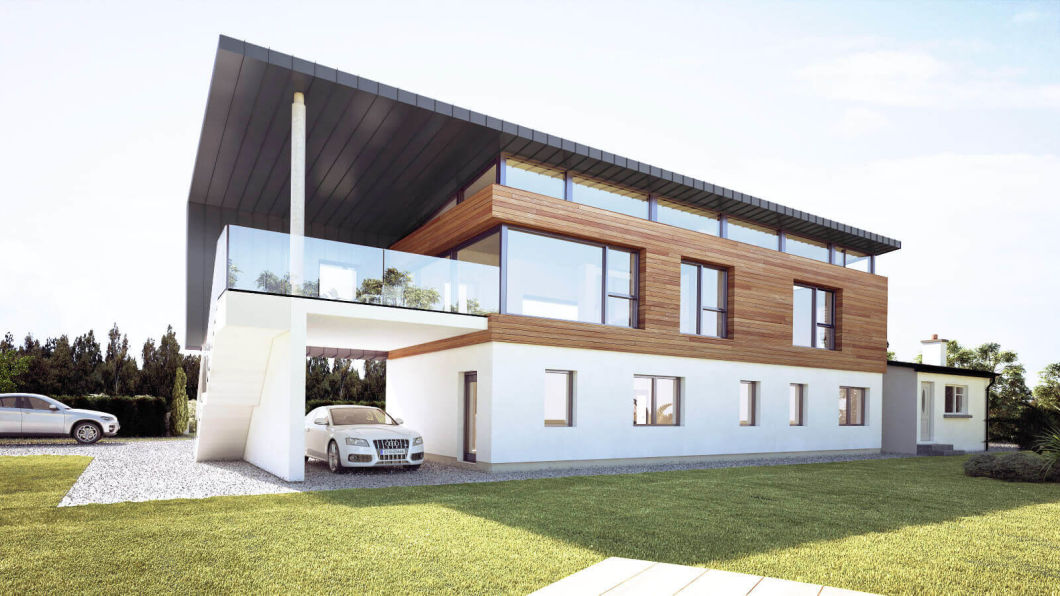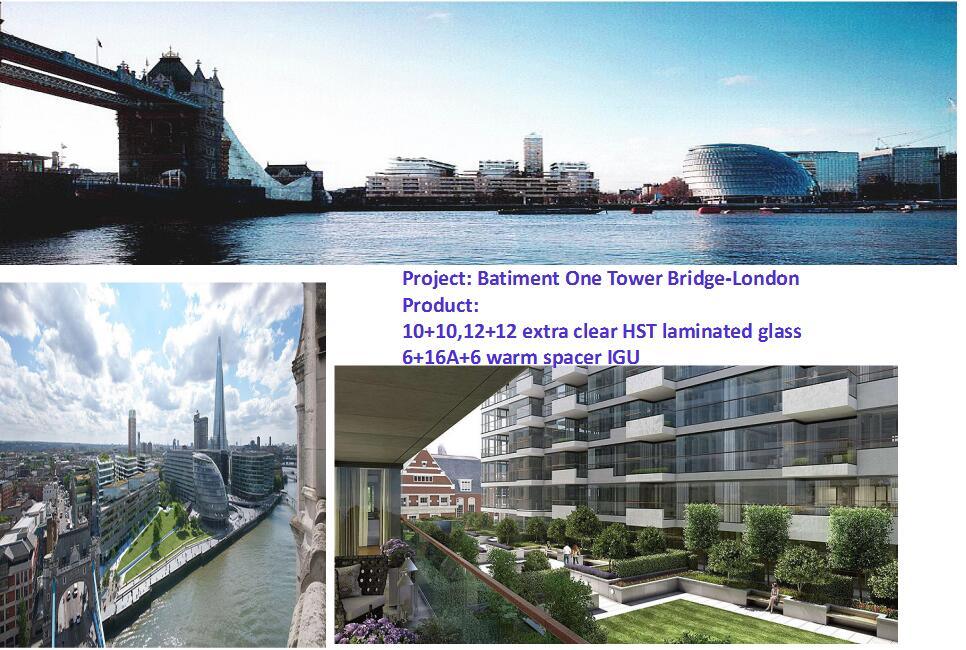 Factory Introduction
Our glass factory was founded in 2000, now it is leading glass manufacturer in China. We have three workshops, and are specialized in manufacturing building glass, household appliances glass, with annual producing capability of 750, 000sq. Meters
For Building Glass, they are toughened glass, laminated glass, insulated glass, acid itched glass, heat soak tested glass, silk-screen printed glass. They are used for swimming pool fence, shower screen, balustrade, balcony, winds, doors, glass wall, glass table, elevator and so on.
For Household Appliance Glass, they are furniture glass for door, table, TV crack, microwave oven door glass, cooktop glass, range hood glass.
We have complete and advanced equipments and machines for making glass. They are imported from USA, Italy Bottero, Finland Tamglass, South Korea Ekang etc. The products have been certificated and approved by AS/NZS 2208: 1996, ISO9002, SGCC: ANSI Z97.1 CPSC 16 CFR 1201, TNO: EN12150, CCC(3C), etc. With high-grade quality and good controlling system, the products have been exported to USA, Australia, New Zealand, U. K., Holland, Norway, Germany, Japan, South Africa and Singapore.