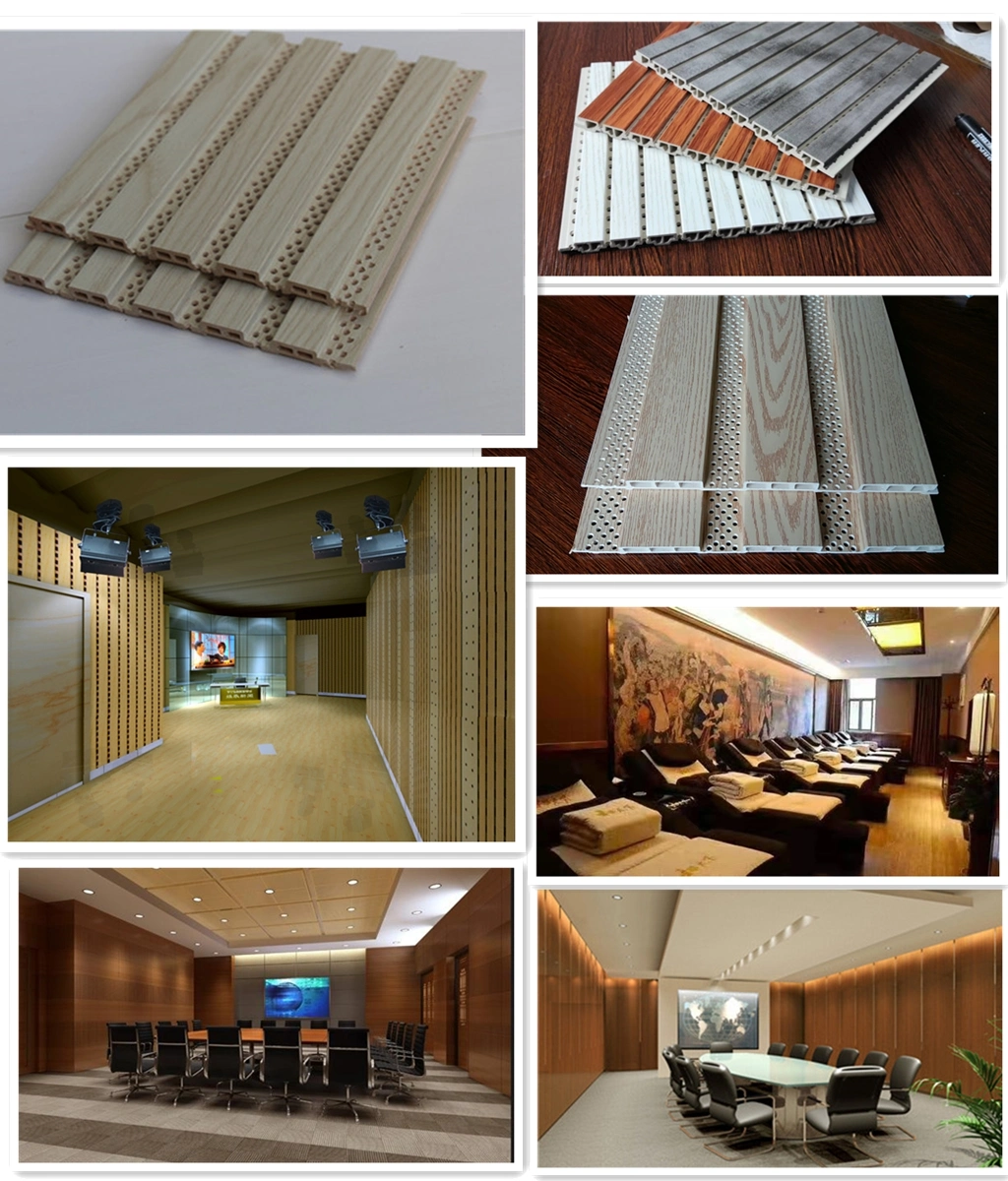 Product Name

WPC Eco-wood Sound Absorption Panel

Size

190*12/15mm; 137*20mm; 150*9mm; 146*7mm; 180*30/35mm; 195*12/14/15/27/30mm; 200*12mm; 210*12mm etc.

Color

Black walnut;Red sandalwood;Mahogany;Ancient wood; Golden grapefruit; Walnut; Pyrus pyrifolia; Rosewood; Grapefruit; Teak; Golden sandalwood; Cedar.
And Various PVC film covering styles are available.

Surface treating

Transfer print and PVC film coating

Material

Wood-Plastic composite

Application

Interior wall decoration, suitable for KTV and conference room etc.

Advantages
1. Totally environmentally friendly, 100% recyclable.

2. Waterproof, moisture-proof, mothproof and anti-mildew.

3. Various PVC film covering styles are available.

4. Shorten construction period and enhance labor efficiency due to it is the profiles with standardsize that it only need some cropping and necessary appendix to finish the installation,need no further processing.

5. Long service lifetime about 10-20 years but it needs no special maintenance, which will save lots of unnecessary maintenance costs.

Length

3000mm or customized
Buwei ecological wood is a new generation of ecological wood products, which not only has natural woody texture and wood texture, but also is superior to wood due to wood. It is waterproof, moisture-proof, anti-corrosive, fireproof, flame retardant, etc. special
Sex, no cracking, no deformation, no expansion, strong plasticity, no pollution, no pollution, formaldehyde and benzene content lower than European standards, no maintenance and maintenance, easy installation, high construction efficiency.
Conventional color card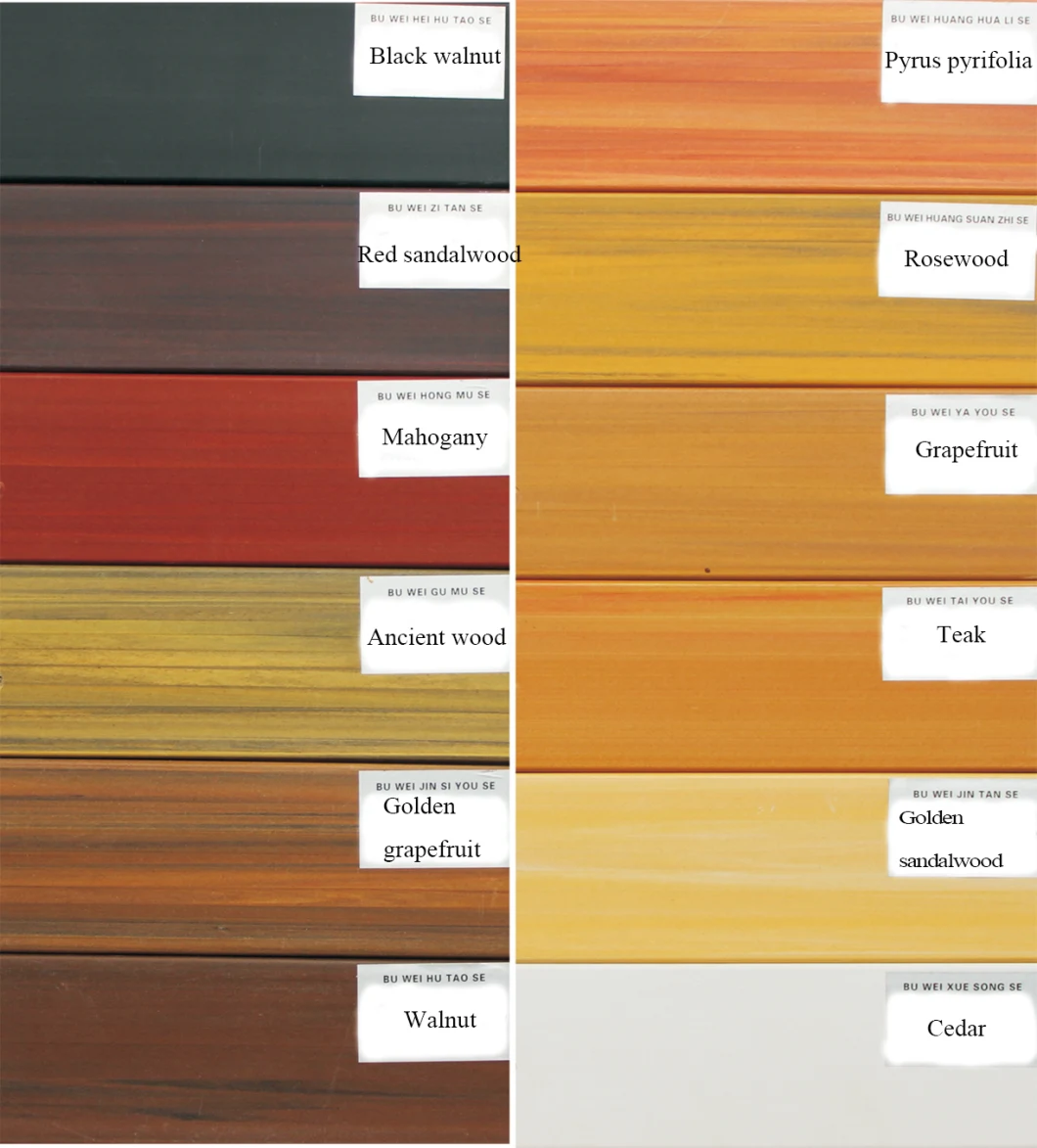 Transfer print color card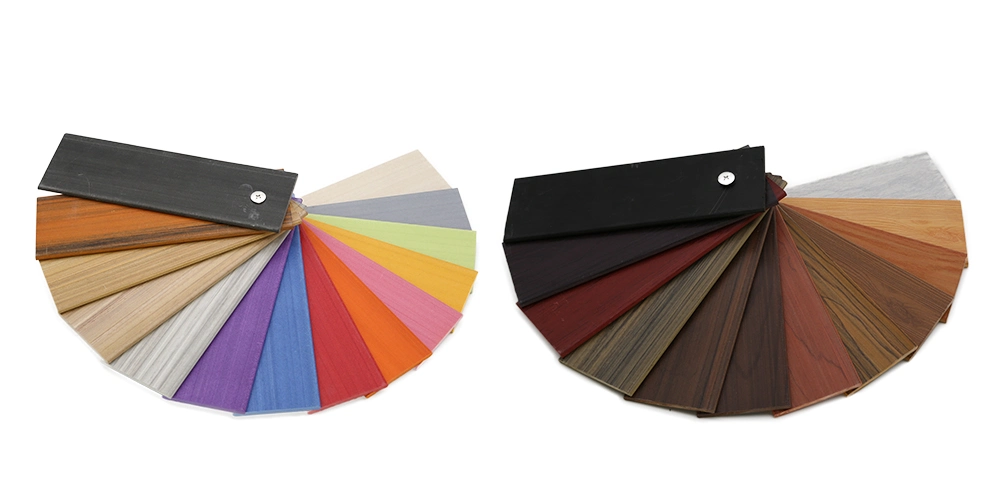 Difference between sound absorption board and sound insulation board:

The sound absorption board is an extension line of a line (sound wave), and the sound insulation board is a broken line of a line (sound wave). The sound absorption board is used to extend the sound wave space. There must be a gap. The function of sound absorption board is to reduce noise, eliminate echo, make the sound quality clearer, and it is suitable for places with higher acoustic requirements; and the sound insulation board is used to limit the acoustic space, which must be tight. The sound quality in the room with sound-absorbing board is good, but it is not sound-proof; the sound quality in the room with sound-insulating board is not good if the room is small, but there is no movement in the room outside.
PVC Film Coating Color Card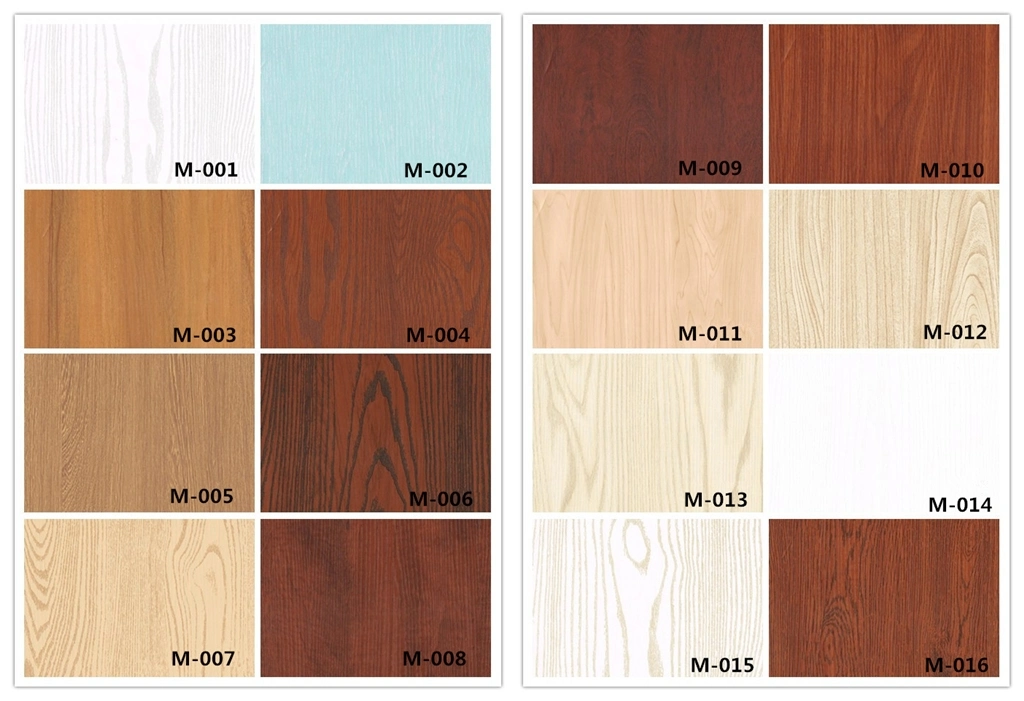 The coated color card will be updated regularly or customized according to the customer's requirements.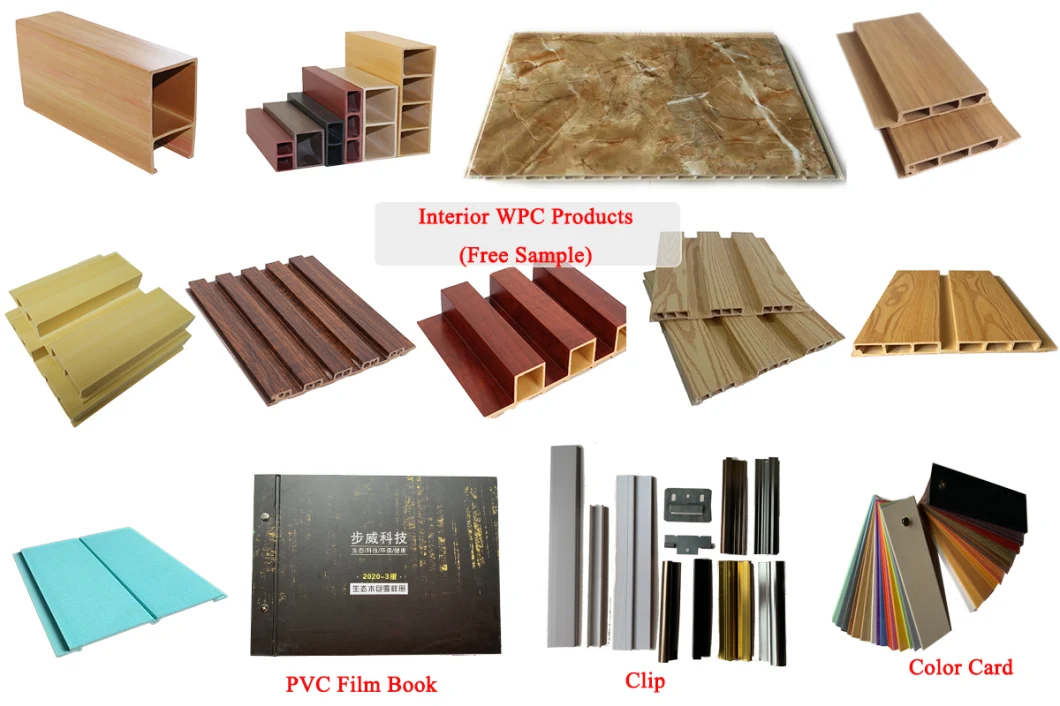 Workshop Display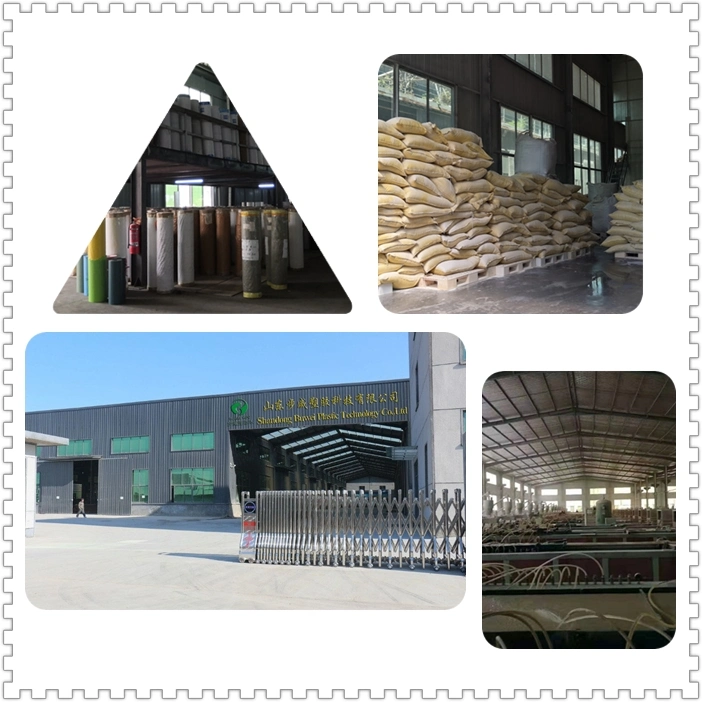 Company Profile
More than 10 years of production experience, focusing on product development.


Shandong Buwei Plastic Technology Co., Ltd.,was founded in 2008, is a manufacturer specialized in WPC products, interior decoration, integrated building, landscape engineering etc..The factory located in China logistics city-Linyi . covers an area of 100 acres, with more than 400 employees.

The company has advanced production equipment and technology, more than 100 production lines, has been through a number of certification of the inspection . Company continue to invest in research and develoment, established WPC and outdoor integrated building materials research and development center, has become the fastest growing enterprise in WPC industry.

Company annual production of 30 thousand Tons in WPC products, is one of the large domestic WPC products manufacturers. Products sell well in the domestic market and all over the world, won the praise of customers.

Shandong Buwei Plastic Technology has 8 major product series:outdoor co-extrusion series, integrated wall panel sereis,wall panel ancillary line series,great wall panel series,wall board series,hollow square timber tube series,composite ceiling panel series and acoustic board series etc., which can be applied to exterior wall decoration, interior decoration bathroom decoration, garden landscape And other projects. With its high quality performance, it has been widely used in construction, home, shipbuilding, aviation, logistics and other fields.
Quality inspection report

Fire test report


We Can Offer
1. Professional service team.
2. Comprehensive installation guide
3.Using top quality materials and components.
4.More than 10 years of professional production technology, according to customer requirements to change grinding tools, support product customization.

FAQ:
Q: Are you trading company or manufacturer ?
A: The short answer is both. We are a manufacturer with professional trading team.

Q: What is the proportion of wood and plastic in your product?
A: The proportion of wood and plastic varies across different product types. Our standard Interior WPC wall panel contains 60%PVC+30%Calcium+7%Wood+3%Additives.

Q:Can I ask for a sample before place an order?
A:Yes. we welcome sample order to test and check quality.We provide customers with free samples and product books, PVC coated atlas, express fee needs to be received and paid by customers first, we will exempt in the later orders.

Q:Can I have a visit to your factory?
A:Of course, we are in Linyi City, Shandong Province, China. There are airports and high-speed rail. The traffic is very convenient.
If you visit our factory, please contact us for an appointment. In addition to showing you around our factory, we can also help you book a hotel, pick up at the airport and so on.

Q:What is the payment term of your factory?
A:Normally in TT 30% deposit, 70% balance before loading,L / C is also acceptable.

Q:What about the lead time?
A:Standard product needs 5-7 work days, customized product time needs 20 days; mass production needsaround 10 days.

Q:Can you do customization?
A:Yes.If the output you need meets our requirements, we can change the tools according to your requirements. If you have your own color, we will try our best to find the same color of PVC film coating for you.

Q:Is it possible to put my logo on products?
A:Yes,You can send us your logo high-definition picture, and we will display your logo on the label of the outer package.

Q:I am a small wholesaler, do you accept small order?
A:Yes, of course. The minute you contact us, you become our precious potential customer. It doesn't matter how small or how large your quantity is, we are looking forward to cooperating with you and hopefully we would grow together in the future.