HPL Laminated Fireproof Mgo Board/ Decorative Mgo Board/ Magnesium oxide wall decoration board
The materials of SG benzene free magnesium fireproof board are Magnesia(MgO), Magnesium Chlorid(MgCl2) and Alkali glass fiber net, and melamine laminated on one side of the board. It is the really green fire prevention product without such harmful elements as asbestos, formaldehyde or benzene.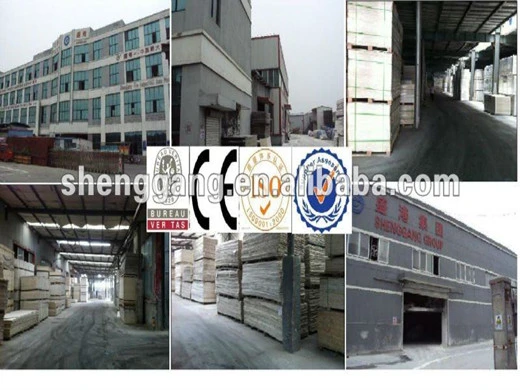 Specification:
1)Purity: Mgo 86% Mgcl 46%
2)Sizes: 1220*2440/915*1800(1830) /915*2400(2440)mm
3)Thickness: 3-20 mm
4)Other sizes available ,accept OEM size
5)Edge finished: square tapered
Packaing&Shipping:
Packing Size: 1220*2440*3-20mm every piece,one container usually includes 6 pallets.
Payment: Deposit on 30%,balance payment before delivery T/T.
Details:The normal package is wooden pallet.according to customers special request.
We will deliver goods in 15-20 days after you paid the deposit.
Characteristics
(1)Light weight and high intensity:The density is less than 0.85g/cm3,the bending strength of 6mm>17Mpa,12mm board >21Mpa.
(2)Superior fire endurance(fireproof):A grade non-combustible material test by national authority organization.
(3)superior impact resistance:Impact resistance of 9mm board>5.5KJ/M2,12mm board >12.7KJ/M2.It is far more than standard of regular board.
(4)Quick construction and no dust :Cut the board could be used the knife directly, no dust pollution, simple and convenient.
(5)lower loss:Extra strip can be used again and with its original performance.
(6)Environment protection:100% not contained asbestos, formaldehyde, benzene, no radioactivity.