Meeting Room Moveable Wall Soundproof Operable Wall Folding Partitions
Finished project
Thanks for the trust from the client who comes from Vancouver.

This was a project for hotel, the client used the acoustic operable walls to divide a big rooms into many smaller rooms, so that the people have a separate small room to entertain.

After we finished the production, we sent some video and pictures to the client to check the quality, he felt satisfied in it. In 2019 April, he received our partition walls and sent us a nice feedback.

Size: Width6520*Height2728 mm, 2 sets of walls, around 35.6 square meters.

Width4000*Height2583 mm, 5 sets of walls, around 51.7 square meters.

Finish: Melamine Surface. Color Chart: CS-31741F, a nice one.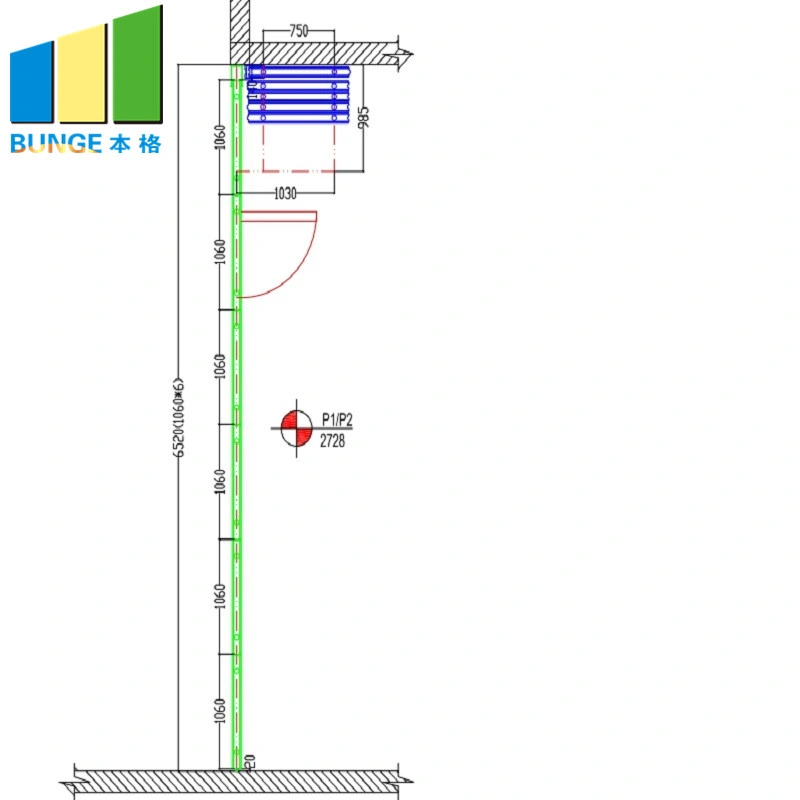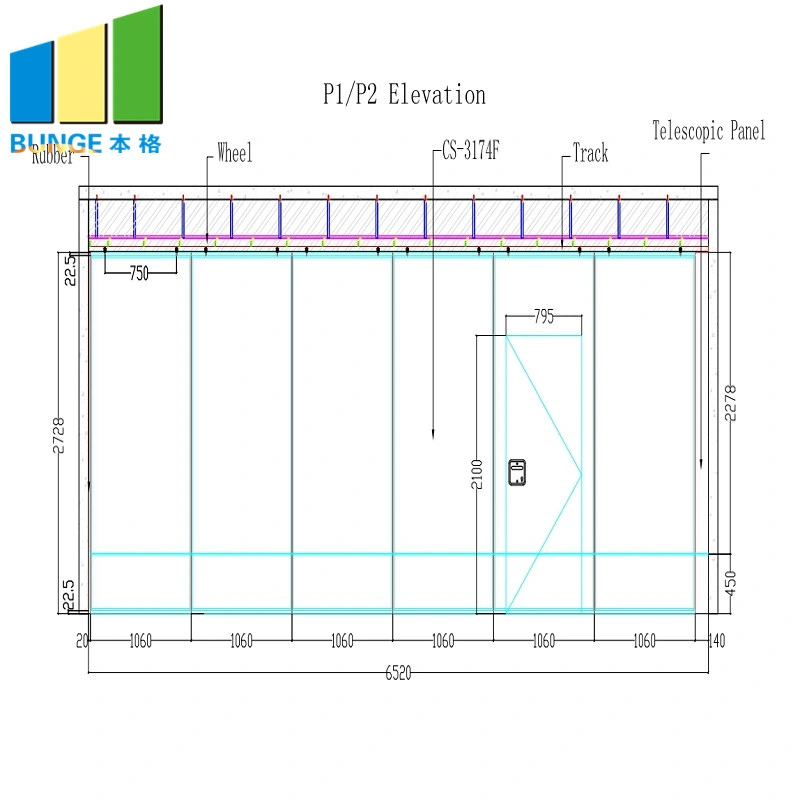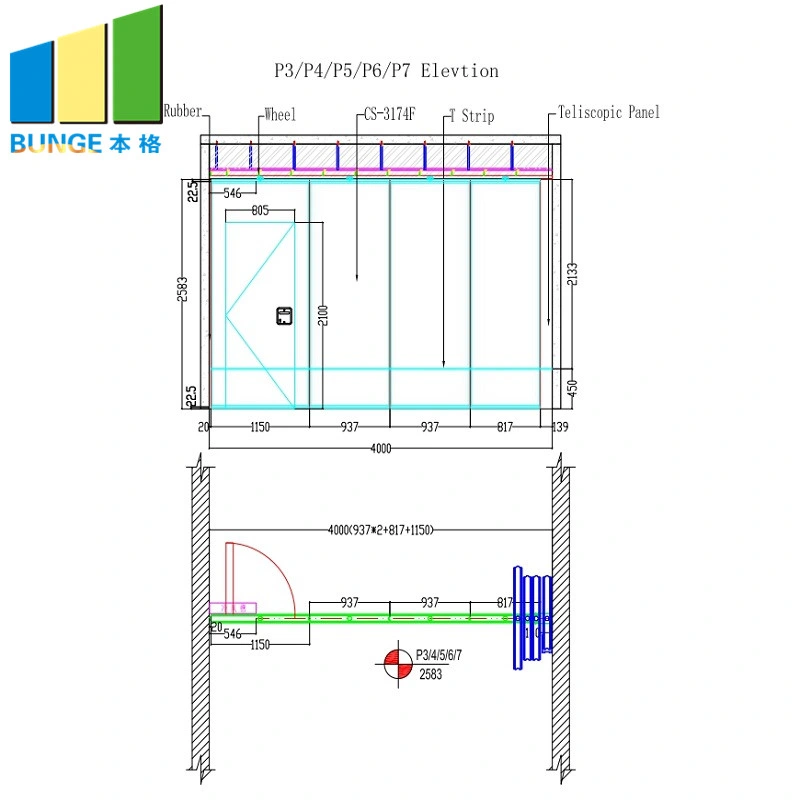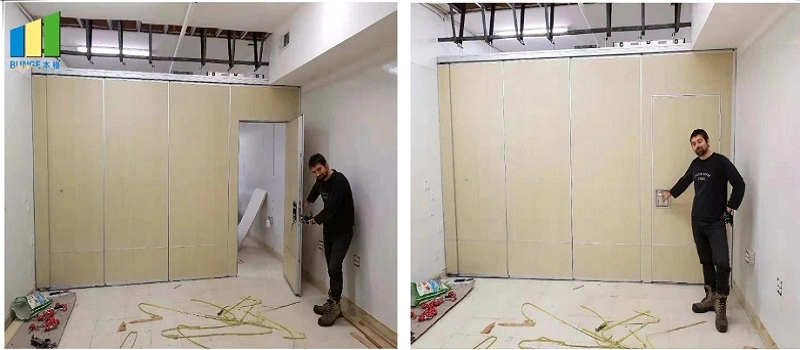 Meeting room partitions description
Model
BG65
BG85
BG100
Suspension System

Hanging System, with ceiling rails

Basic Thickness

65mm

85mm

100mm

Max Height

Max 3800mm

Max 6000mm

Max 8000mm

Width

800 -1230mm

Floor/ceiling Sealing
strength

Telescopic aluminum tube with rubber strip

Side Walls Sealing
Strength

Double seal tape

Base Board Thickness

9 mm

9 mm

12 mm

Vertical Profiles

Aluminum anodised with sealing profiles

Retractable Seals

Aluminum black with double rubber seals

Operation

Manual System, with supplied operating handle

Pass Doors

Single or Double Pass Through Door Available

Weight

Approx 22-35 kg/m²

Approx 25-40 kg/m²

Approx30-48 kg/m²

Finish Options

Plywood, MDF, Laminate, Melamine, Gypsum board, Fabric, Leather, Insulation board, Fireproof board, Wall paper, Vinyl, Painting, etc. (Customized)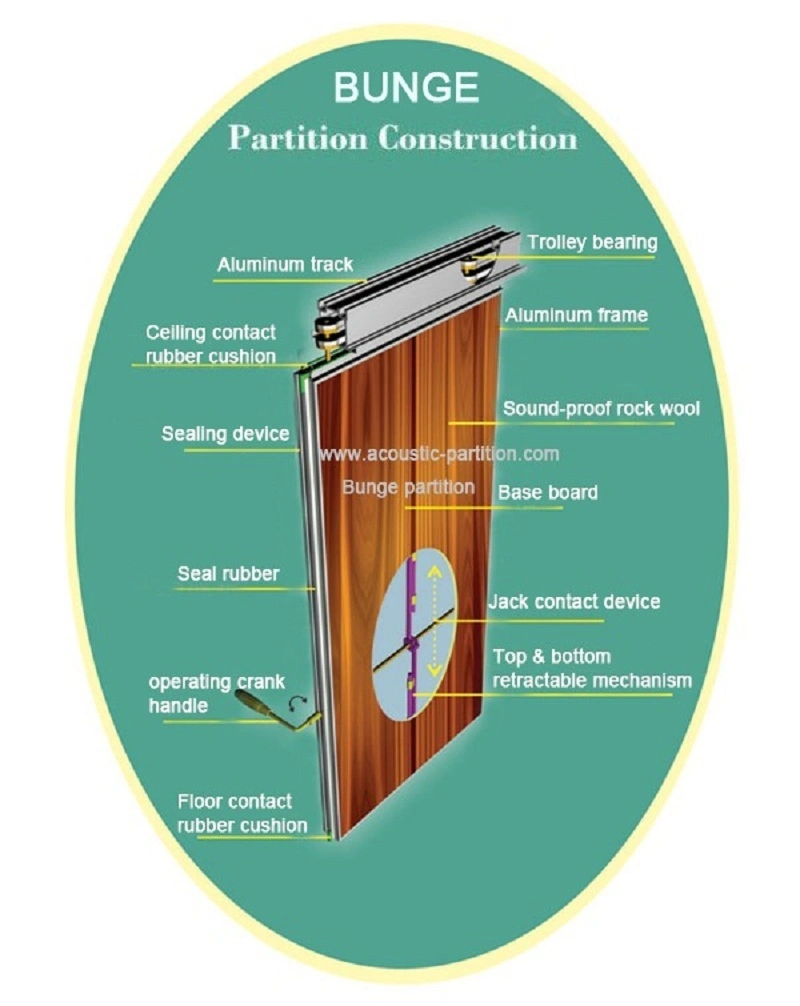 Meeting room partitions features
1. No rail suspension: the floor has no track, just install the track on the ceiling;
2. Stable and safe: stable and reliable after partitioning, not easy to swing;
3. Sound insulation and environmental protection: sound insulation effect is good, the sound insulation coefficient can reach 53dB;
4. Insulation and energy saving: excellent thermal insulation performance, according to different occupancy rates, the large space is divided into small spaces to reduce air conditioning power consumption;
5. Efficient fire prevention: it is made of high-efficiency fireproof material and has good fireproof performance;
6. Beautiful and generous: the meeting room partitions surface is arbitrarily decorated, and can be combined with the interior decoration effect;
7. Retractable and flexible: the meeting room partition is freely retractable and flexible, and one person can complete the whole process of partitioning;
8. Convenient collection: When closing the board, the meeting room partitions can be hidden in the special storage cabinet, which does not affect the overall appearance;
9. Wide range of applications: can be used in conference halls, exhibition halls, restaurants, high clean factories and offices.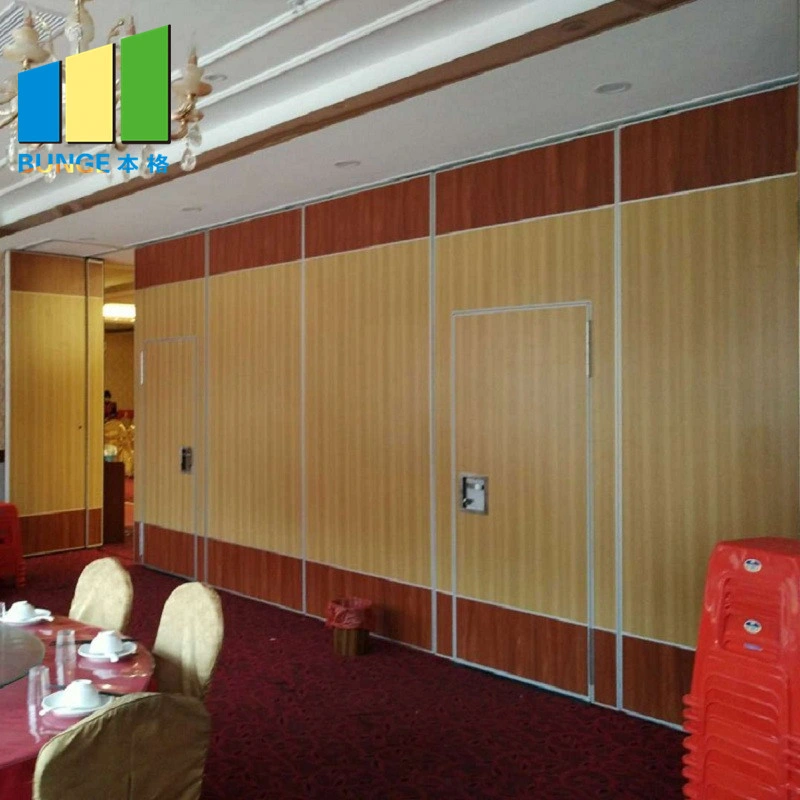 Related products
1. Movable partition walls, operable walls, movable doors, acoustic room dividers, sound proof partitions.

2. Office furniture: office workstations, office chairs, conference chairs, stackable conference tables.

3. Glass partitions: movable glass partitions or fixed glass partitions for office or conference room also available.

4. Partition walls accessories: partition walls tracks and wheels.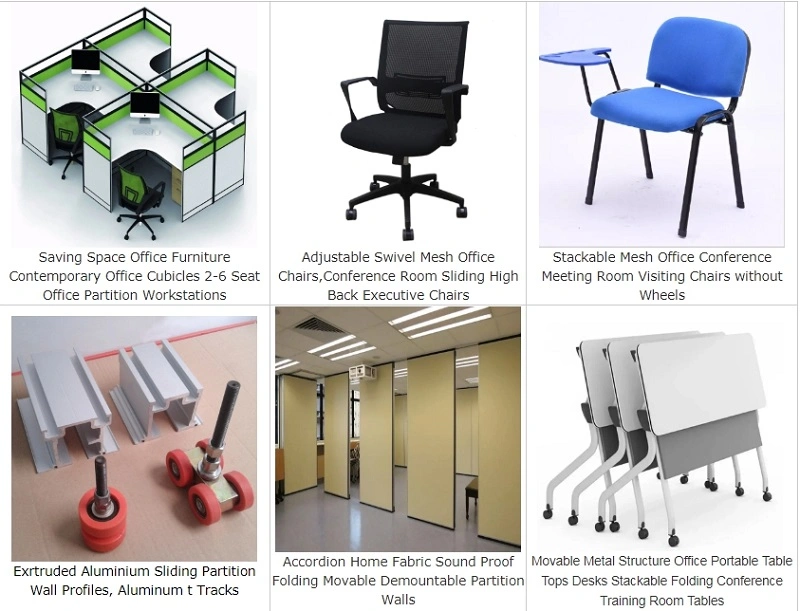 Meeting room partitions packaging
A short time of production-ONLY 5-7 DAYS
Quick and Safe Shipping
Package by Wooden Boxes
About us
Guangdong Bunge Building Material Industrial Co.,Ltd is a professional company in manufacturing
Movable Partition Walls System. We are the real manufacturer, we have our own factory and showroom in Guangzhou, China, which covers an area over 3000 m². And we have around 10 years experience in it. There is a ultra-high system sample in our factory, over 8 meters. Every client who came to our factory was amazing in it. BUNGE Factory is always providing the clients with nice quality and competitive price movable wall system, and we are so strict to inspect the quality before delivering. So far, we have exported to USA, Australia Uganda, Lebanon, Sri-Lanka, Saudi Arabia, Philippines and many other countries.
As a professional manufacturer, we not only produce, we also design, deliver and have the after-sales service for clients. If the client need installation service, we also can send our technicians to supervise the installation. In addition, we also can supply free design to every client and we will reply in 12 hours if the clients have any questions.