Slot Air Diffuser Linear Diffuser Ventilated Slot Diffuser
* VENTECH Slot diffusers direct the air from air conditioning systems at an angle into the room. The resulting airflow induces high levels of room air, thereby rapidly reducing the airflow velocity and the temperature difference between supply air and room air. The result is a mixed flow ventilation in comfort zones, with good overall room ventilation, creating only very little turbulence in the occupied zone.
* Slot diffusers have adjustable air control elements. A hit & miss damper (optional) simplifies volume flow rate balancing for commissioning. Slot diffusers are space saving supply and extract air combinations.
* The linear slot diffuser is a type of air ouotlet with 1 or more slots. It is typically used in meeting rooms or hotel.
* The linear slot diffuser repersents the most popular air distribution design option for almost any interior applications .It's blades are adjustable to facilitate accurate control of air flow direction.Specially designed hit and miss damper allows for easy control of air volume.
* Suitable for rooms with ceiling heights from 2.5m to 4m.Available in 1 to 5 slots configuration .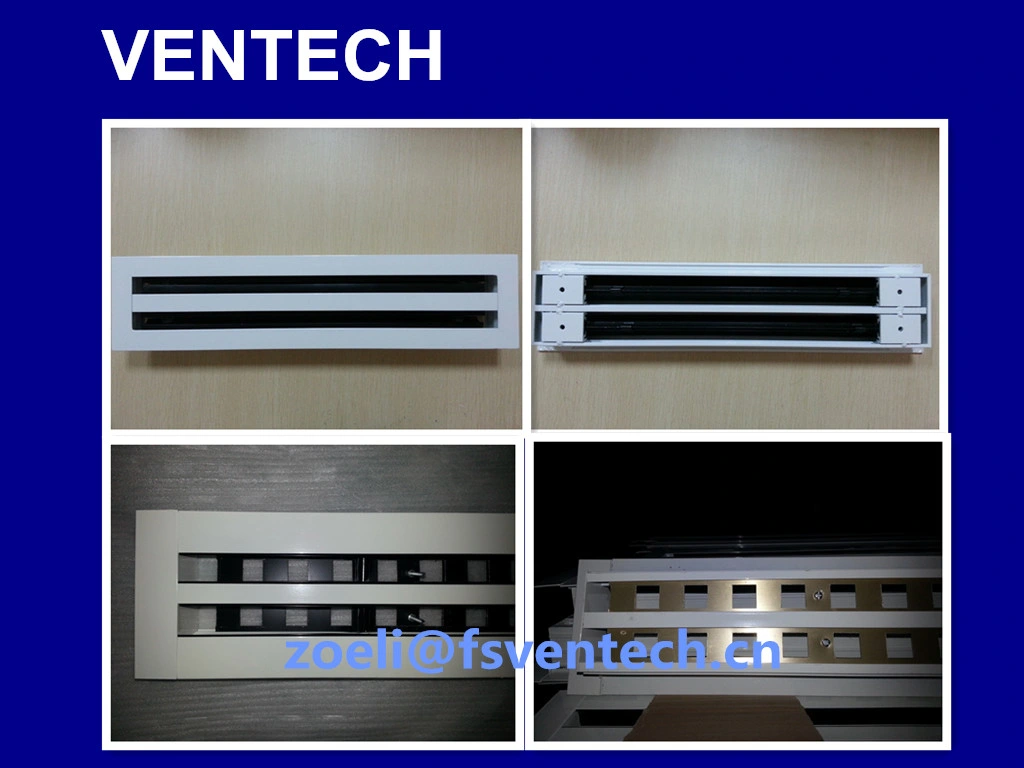 Features :
* Nominal size: 1slot, 2slots, 3slots, 4slot, 5slots. Length customized.
* Diffuser made of extruded aluminum.
* High induction results in a rapid reduction of the temperature difference and airflow velocity.
* Butterfly damper optional.
* Individually adjustable air control elements to meet individual local requirements
* Diffuser available in RAL colors.
* For room heights up to 4 m (lower edge of suspended ceiling)
* For horizontal installation into walls and bulkheads
* Hit & miss damper optional.
* End angles, modular angles, 45°cutting end angles available.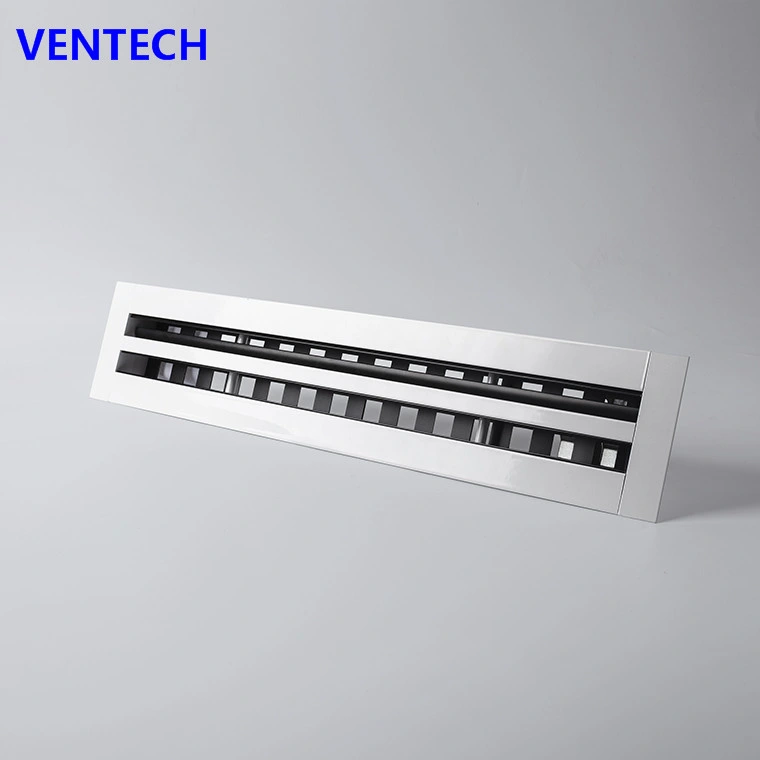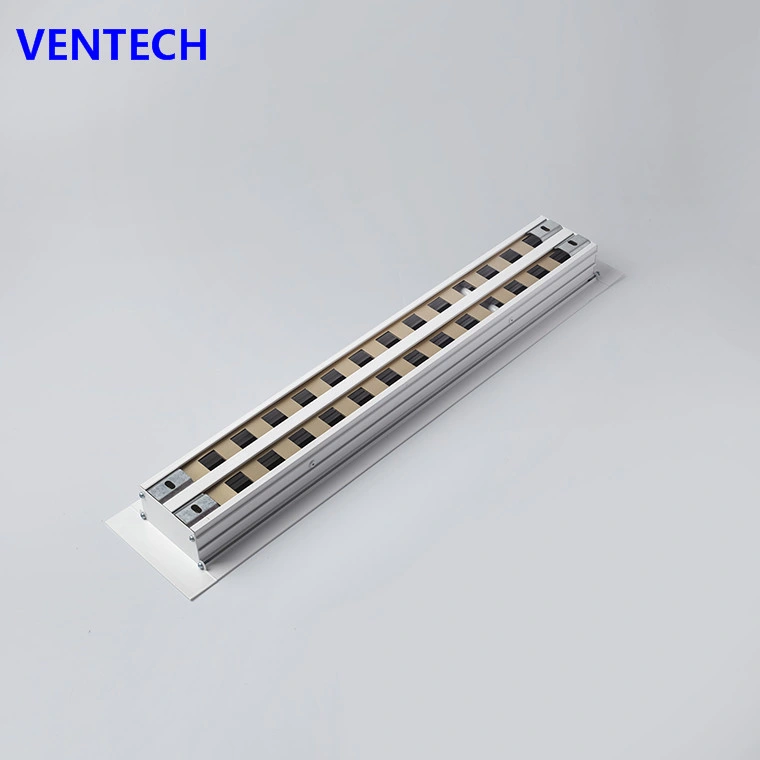 Colour:
* White: RAL 9010, RAL9016,RAL9003

Structure: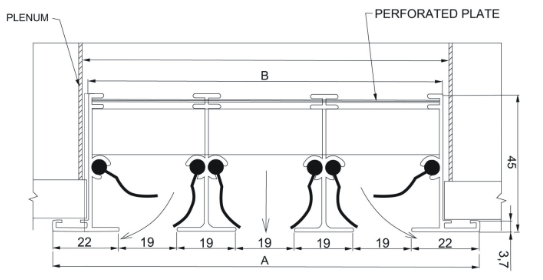 Performance data:
Thickness (1.2mm) ,Slot distance 20mm

Slots

Face size(mm)

Neck size(mm)

Heigh(mm)

1 slot

84

40

49

2 slots

120

76

49

3 slots

155

111

49

4 slots

191

147

49

5 slots

226

182

49

6 slots

262

218

49
Factory show:


Our services:
* VENTECH is the leading supplier of air diffusion products in the international market.We dedicated in manufacture and design of air diffusion and ventilation for air conditioning system.
* VENTECH was found in 2006.We have 30000 square meter production area .With about 250 experienced workers.And soon we became a leading air diffuser and grilless manufacturer.
* We concerntration on high quality and competitive price.We have strict qualtiy control process,and every product is hand inspected to ensure it will be in good quality condition.
* VENTECH will work to develop new design and technologies to achieve better product performance,easier to install and higher quanlty year on year .
* VENTECH personnel will always cooperate with the customer to make doing business together and efficient ,fast and pleasant experience .
* VENTECH is you best choice ,we are ready to cooperate with you to provide a comfortable way of handling air.

Hot selling: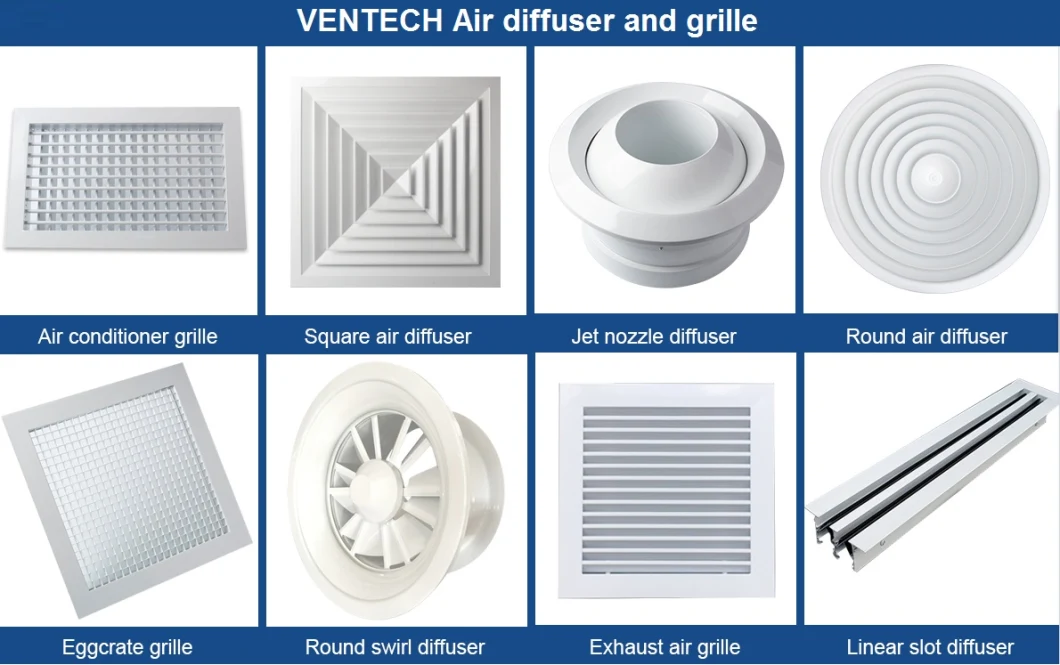 Packing & Shipping:
Packing Details:
*Neutral packing: export standard carton.

*Unit packing: heat-shrink film packing for each product, plastic protect corner is optional.

*All of the productions are inspected carefully by QC before delivery.
Delivery Time:
*Normally 30 days production time after receiving the deposit.

*Urgent orders could be on priority.

Min. Order
*If order based on EXW terms, no MOQ is required.

*If order based on FOB or CNF or CIF terms, there's MOQ for your options.

*Container orders will have more favorable price.

FAQ:

Q: Are you a manufacturer?
A: Yes, we are a professional manufacturer, and we have more than 15 years manufacturing and overseas sales experiences. Now we've sold our HVAC system air supply return ceiling diffuser to more than 26 countries!!!

Q: What's the MOQ?
A: The MOQ is 5000usd per order. Mixed supply ceiling diffuser is allowed.

Q: Can you provide free sample?
A: Yes, we could provide free sample of supply ceiling diffuser. But we don't pay for the delivery cost.

Q: What's the delivery time?
A: the delivery time is about 30days.

Q: what's the payment term?
A: T/T, L/C

Q: Can we buy under our own logo?
A: No problem.

Q: What is the quality?
A: we offer high quality products. VENTECH is famous for it's high quality and most competitive price!

Q: Can I be a VENTECH brand distributor?
A: Yes, you can. Pls contact us for more details.