We are the manufacturer of different kinds of spray booth for 20 years , according to customers requirements , we can design the best solution for you , and show you the 3D drawing , then you can know more claerly about the
spray booth
/
preparation bay
/
powder coating booth
/
baking oven
you need .
1. CE approved
2. German Technology
3. Professional European-style blower system
4. Spray booth professional manufacturer
5. Factory price, energy saving
6. High quality, best sell service, timely delivery
7. We can meet at customer's special requirement
Same quality, our price is lower.
Same price, our quality is better.
We supply 2 years warranty!
All container are the Brand new container , standard color is white and blue , also you can choose the color you prefer .
Also we can customized it according to your requirements .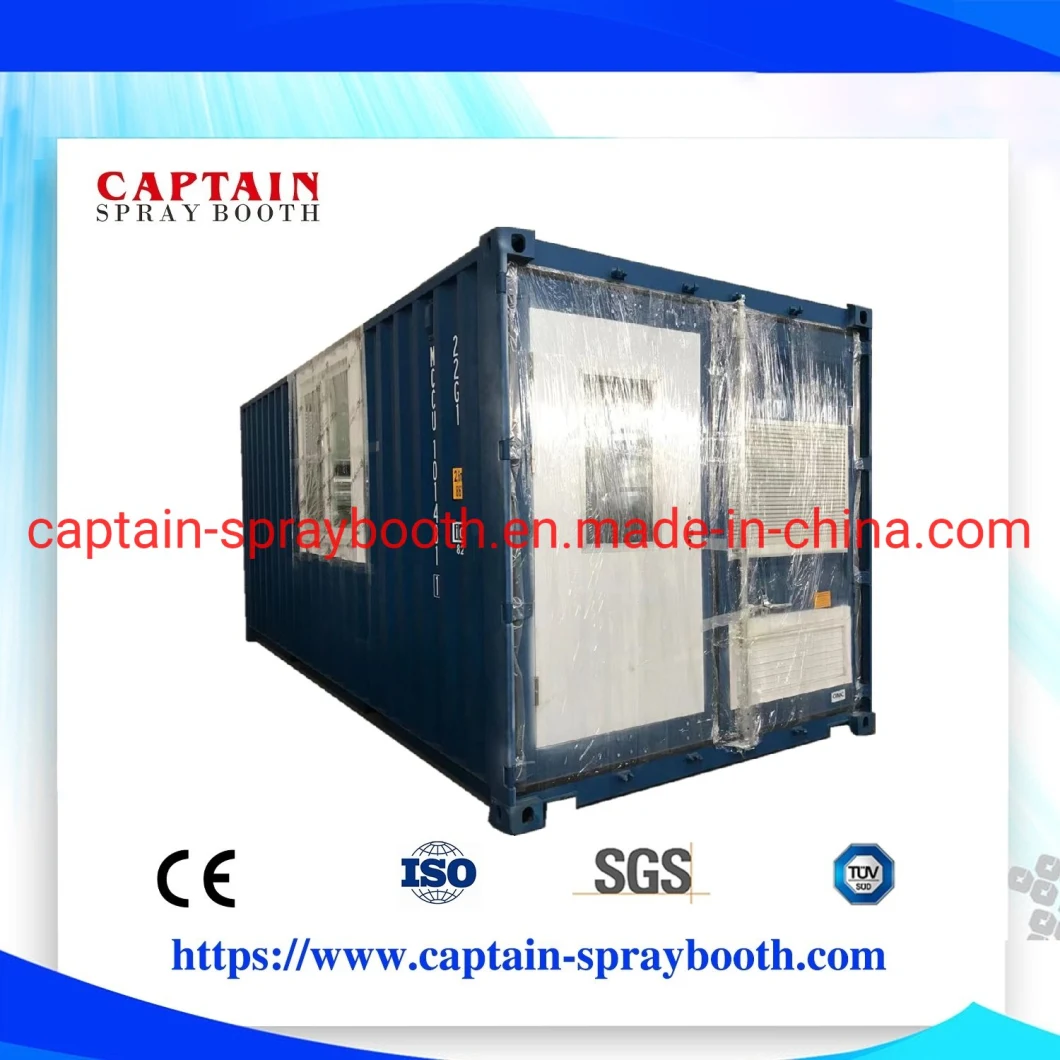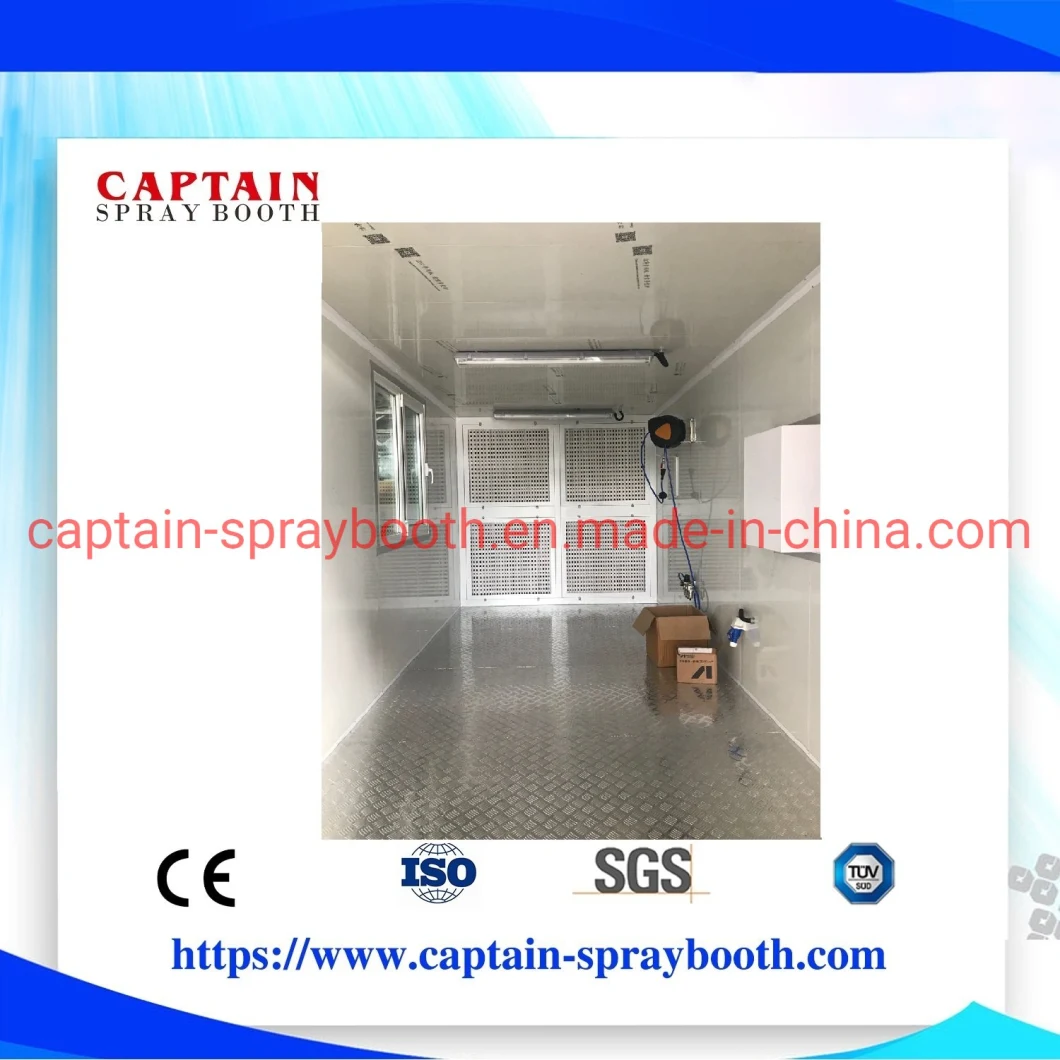 Designed for the application of paint, glue, varnish or other solvent-based products. The layout possibilities are endless (tailor-made).
Perfectly suited for liquid application and for powder application, as well as for paint storage, while respecting current standards.

Dimensions (L-W-H)

6058x2438x3303mm

Air exhaust fan

3 kW

Air flow

5000-8000 m3/h

Average suction speed

0.7 m/s

Inside height

2000mm

Inside width

2000mm

Window

1300x1190mm

Service door

1950x940mm

Outside Height without fan

2591 mm

Voltage

220v-240v,1ph ;380v-400v,3ph

Advantage:
• Modular, providing many equipment
• Triple filtration (Ceiling filter + Folded dry-type filter paper + Fiber-glass filter )
• Front door with filter cotton frame to filter the dust

• One set 3kw centrifugal fan with strong air flow 5000-8000 m3/h (fan motor with rain protection)
• Control box with filter blockage control
• Service door and window
• Galvanized non-slip floor
• 3 sides rock wool wall panels
• Atex LED lighting
• Equipped with air treatment and compressed air reel

• Equipped with hot air blower , can be used in winter and can be used for heating

Inside view :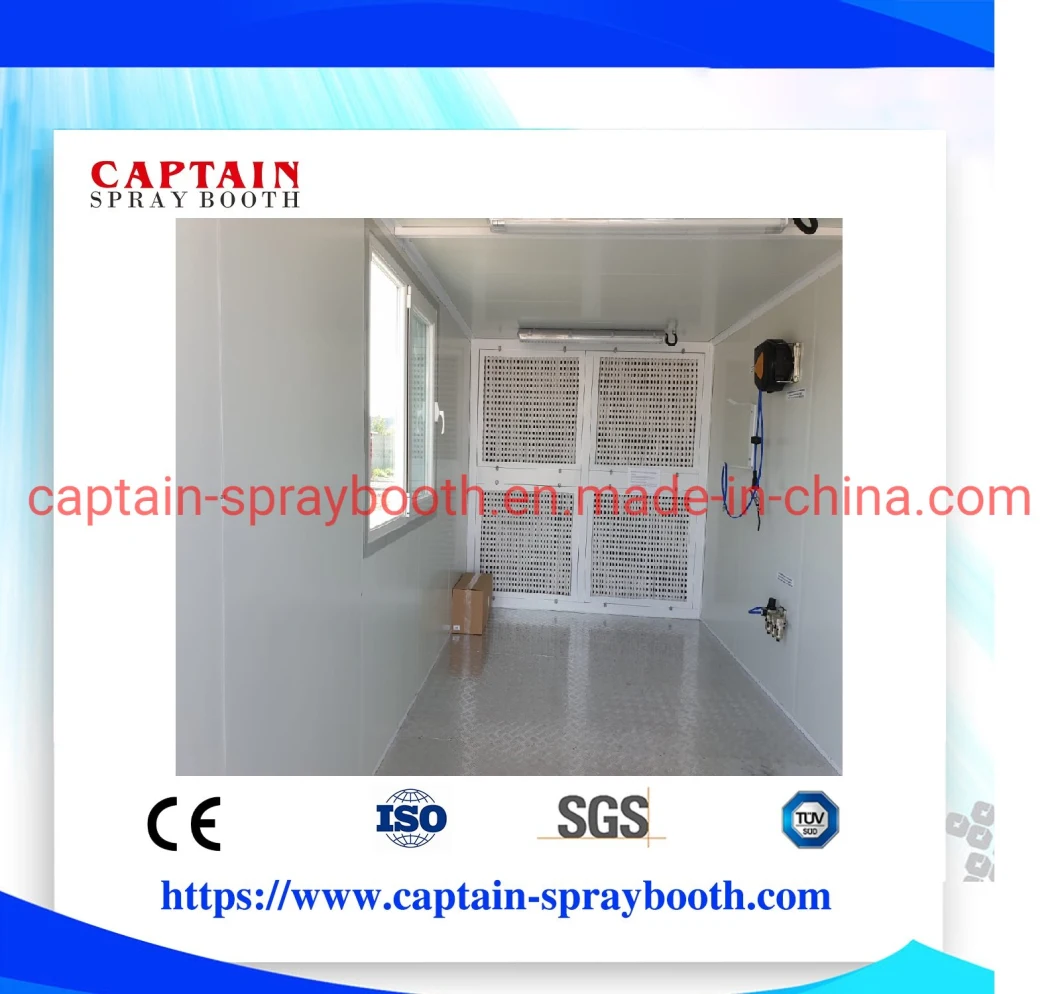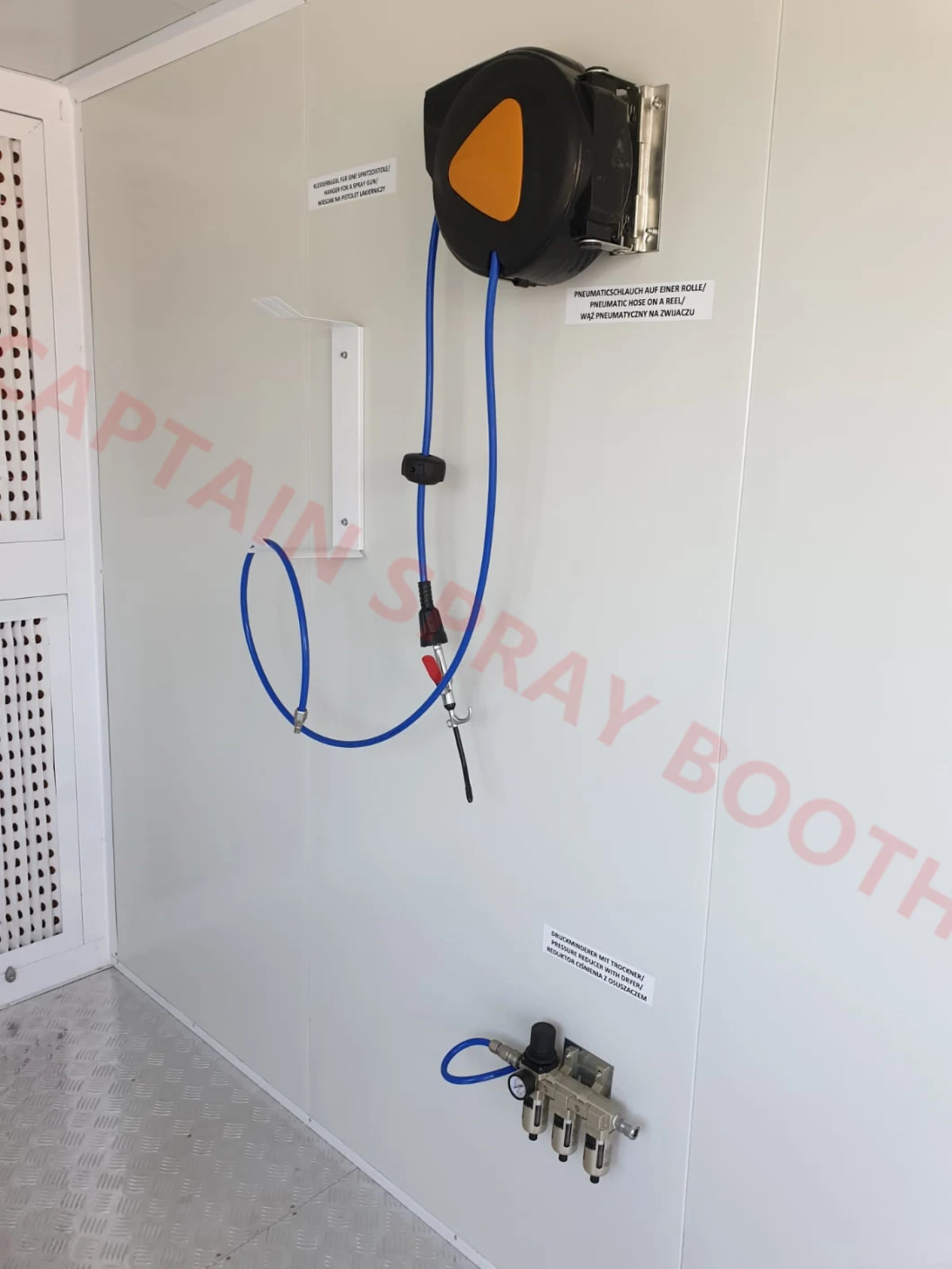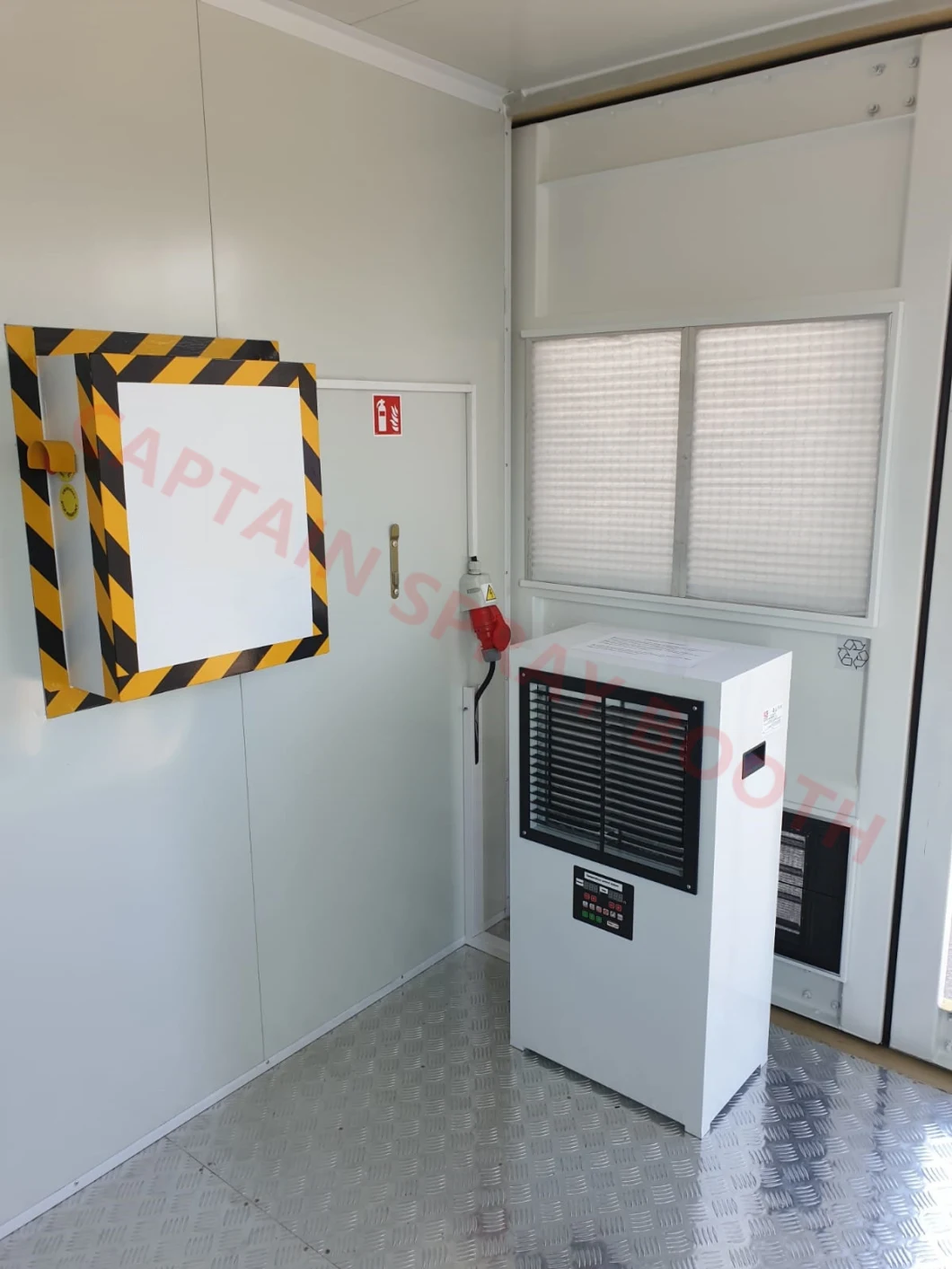 Container spray booth with Diesel burner model: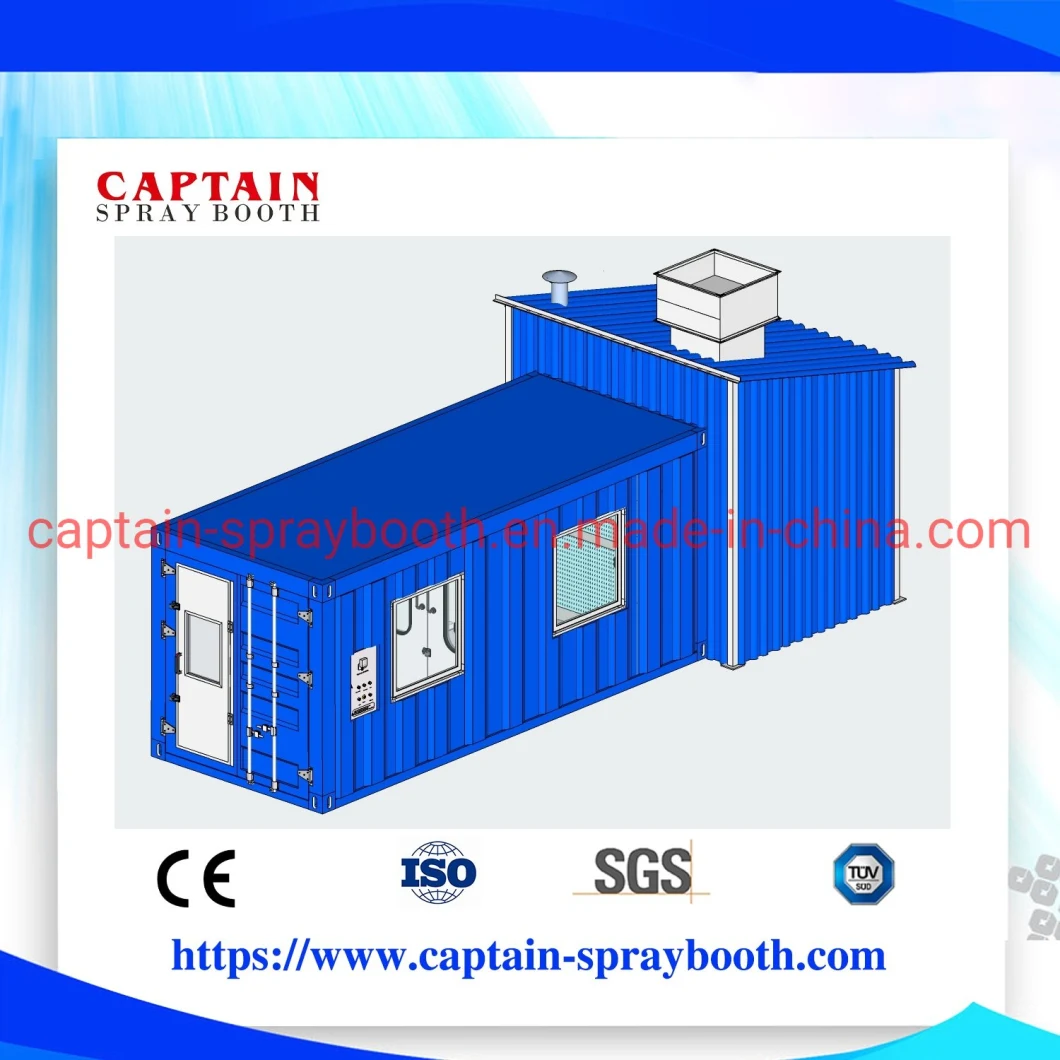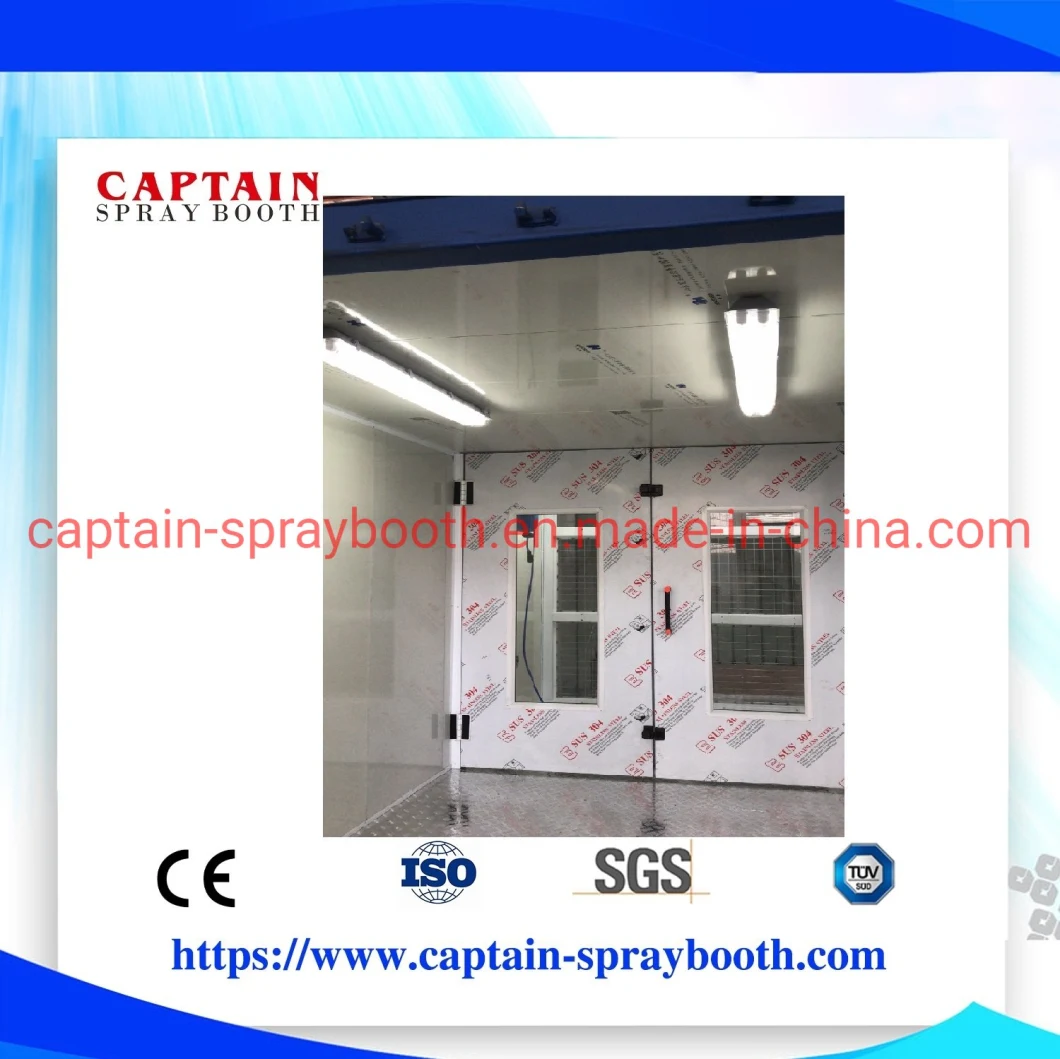 Other design: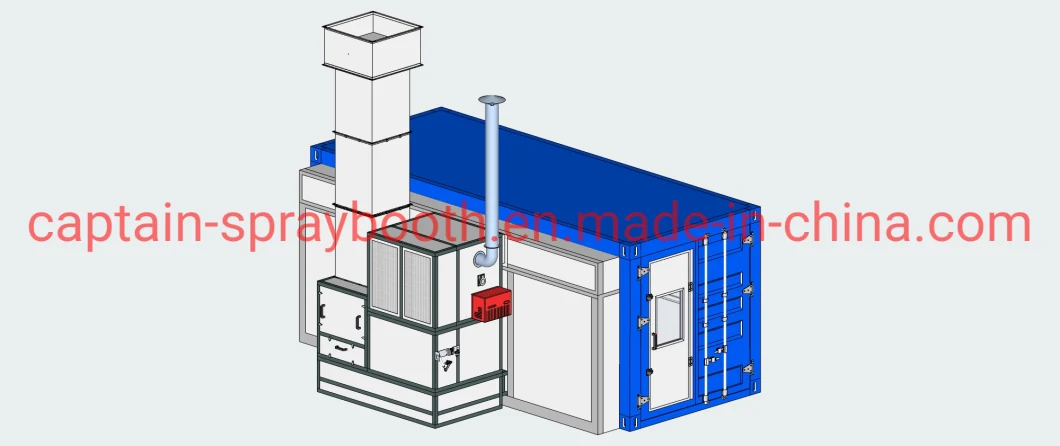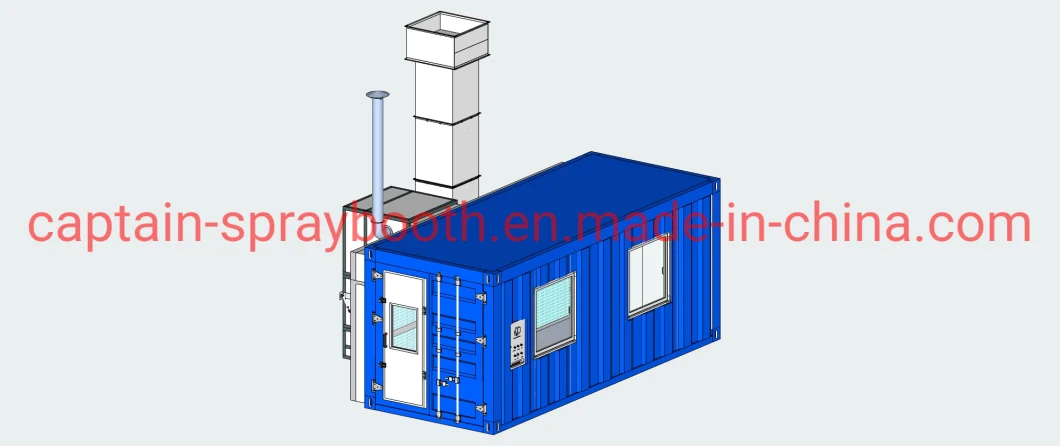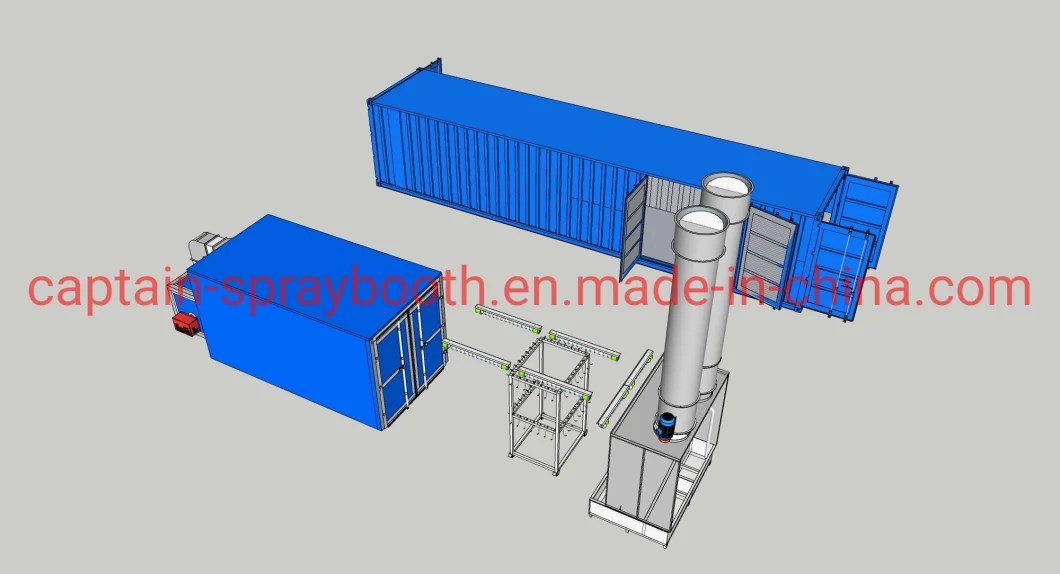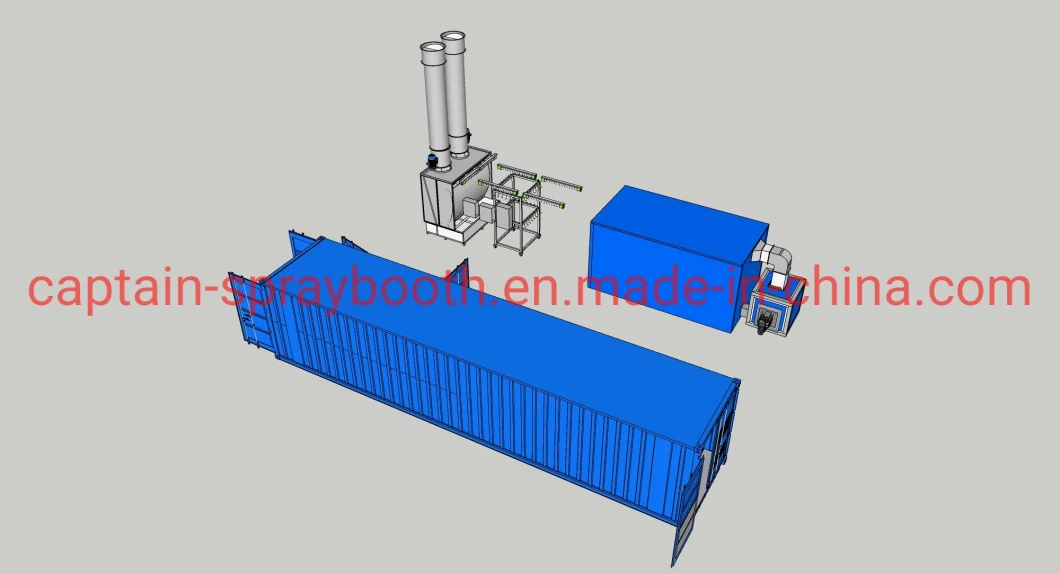 Workshop :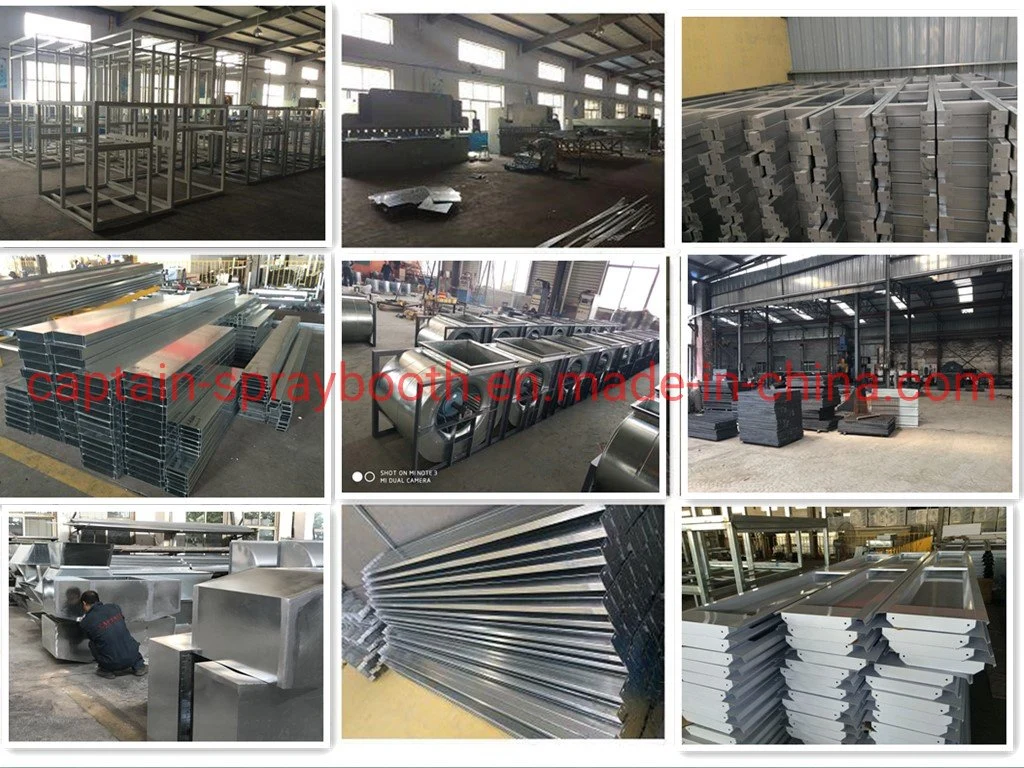 Captain Advantages

*The same price higher quality, the same quality lower price! ! !
*2 years quality warranty! ! !
*Fast and stable supply capability! ! !
*Personalized design to meet customer various needs! ! !
Specifications
A. During painting, spray booth can offer a sealed environment with cleanness, safety and excellent lighting for the painting operation of all kind of components and different products
B. During baking, drying time, temperature and humidity in spray booth can be set according to different paint materials to achieve a perfect high-quality spraying and baking for your cars.
C. Spray booth makes spraying and baking operation with no limits of all kinds of whether, thus ensuring physical fitness of operators and absolute safety of equipments.
1. White, Blue
2. For automobile
3. Complete steel assemble Basement and floor
Car painting, Automobile Baking, Portable Auto Spray Booths
1. Italian Riello RG5S diesel burner
2. SUS304 Stainless steel heat exchanger
3. Anti-flame and Heat-Insulation
Turbo Fan Electrical Heat Downdraft Auto Spray Booths For Automobile Painting, Maintenance
1) For car painting and baking
2) maintains a high level of safety and performance together with top quality construction and materials
3) Various systems of environmental protection are optional for customers
4) A wide range of colors available: White, red, marine blue, gray, orange
5) Trustworthy durability of each parts
6) Good after-sales service
Packaging & Delivery
Packaging Detail: Export professional packages. Our packages are professional. We use the iron bracket package and it can fix the products and prevent them from broken. Moreover, we will label every components and it is easy for the customers to distinguish
Delivery Detail: To effect shipment within 2-3 weeks after deposit