1.Description
Philippines conference room mobile acoustic partition meeting room soundproof movable walls training room mobile wall
Partitions wall markets a wide range of space division solutions including Movable Glass Walls, Operable Partitions, and AccordionDoors. Modern fold partitions help architects, interior designers, and building owners more efficiently utilize space.
Our partitions are used in a number of different applications to deliver greater functionality and sound control, including office buildings, gymnasiums, classrooms, hotels, hospitals, retail, banks, and conference, and exhibition centers. Modern fold never loses sight of the fact that each project is unique and demands individualized attention to design, product selection, installation, and
service.
Modernized Soundproof Movable partition
1.Hanging on ceiling
The floor without a track, just put the rail mounted on the ceiling
2.Excellent Quality
Each pieces of partition can turn around 360 degree.
3.Stable and secure
After partition is stable and reliable, and is not easy to swing
4.Energy efficient
The large space divided into a small space, in order to reduce air conditioning power consumption;
5.Elegant appearance
Surface any adornment, can unite with indoor adornment effect
6.Easy to collect
Can be collect and hidden in the special room, does not affect the overall appearance
7.Various applications
Hotels, exhibition halls, restaurants, multi-functional rooms etc.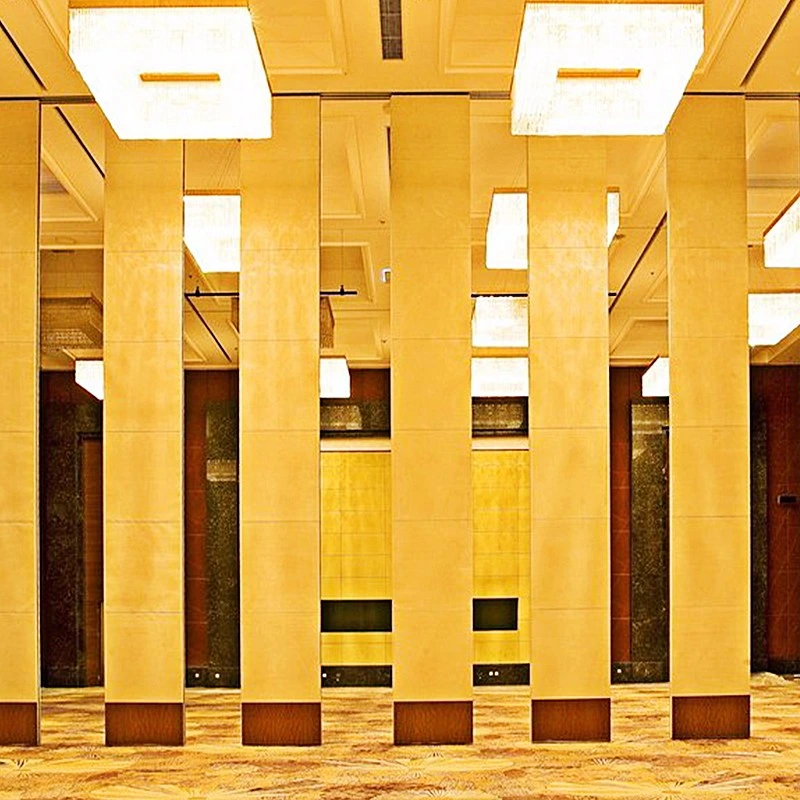 2.Accessories
Track: The tracks are made from extruded 6063 - T5 anodized aluminum. The track housing shall utilize grooves and interlocking steel pins for positive alignment of adjacent track sections, and shall be reinforced overhead by drop rod brackets. The aluminum track housing shall include an integral nut slot to accept a hardened square nut for attaching each drop rod bracket to the top of the track.
Panels: The Panels will be made from 12 mm MDF boards and shall be 100 mm thick and 1230 mm maximum width, made to the appropriate acoustic rating and structural backing and mounted in full perimeter extruded aluminum frames with interlocking corner construction. The panel faces shall be finished with selected material.
Panel Surface Finish: The panel surface will be as per the client's requirement finished either in the Sliwal factory - China or by
others. The normal finish such as laminate, veneer, melamine, fabric, etc.
Seals: Vinyl seal of butane rubber will be used as top and bottom and as well as closure seals for the operable wall
system. The retractable seal drop will be 23 mm.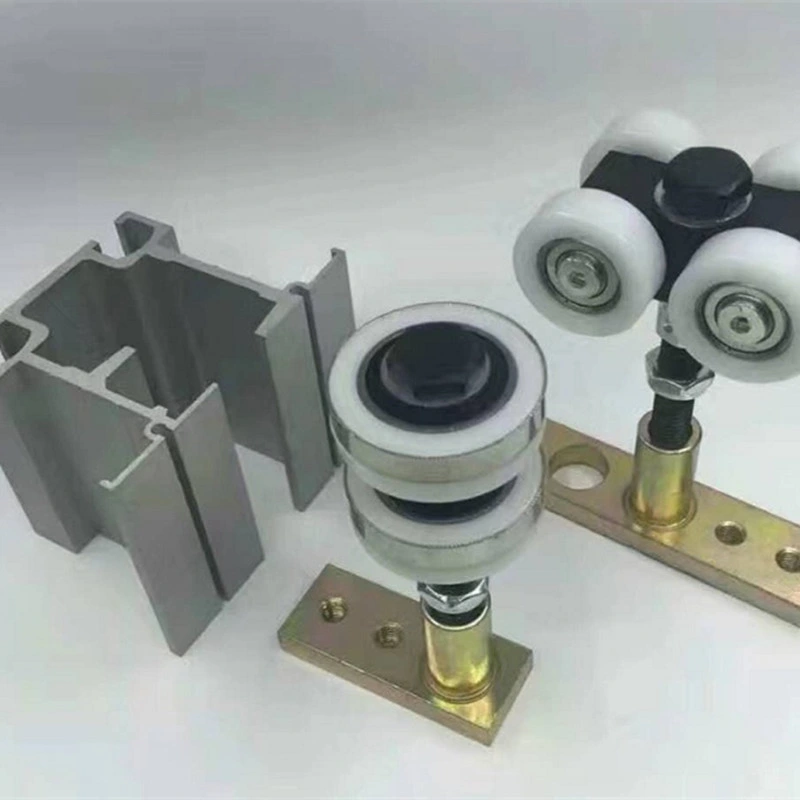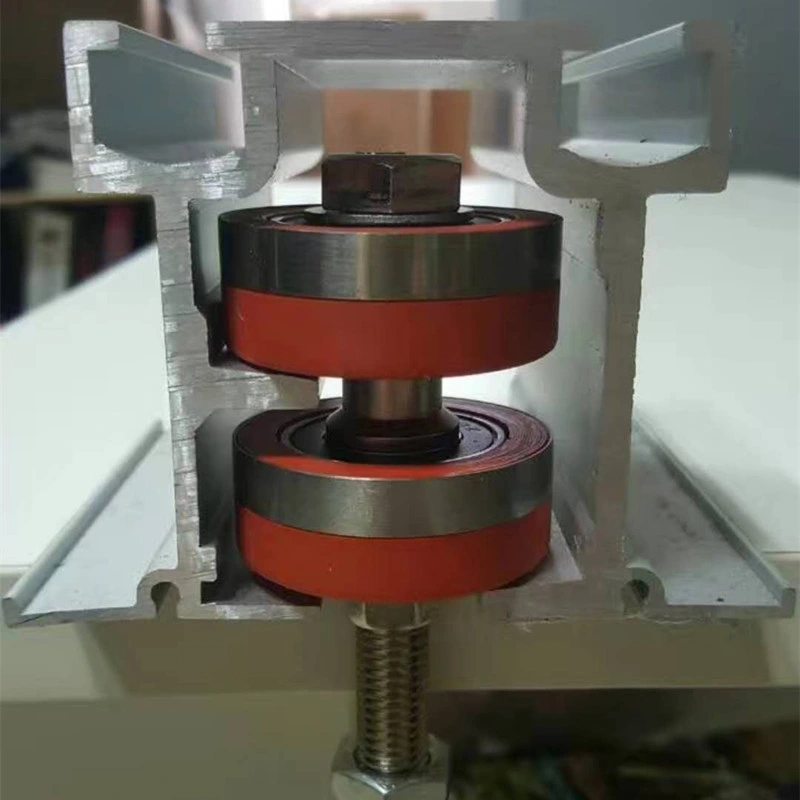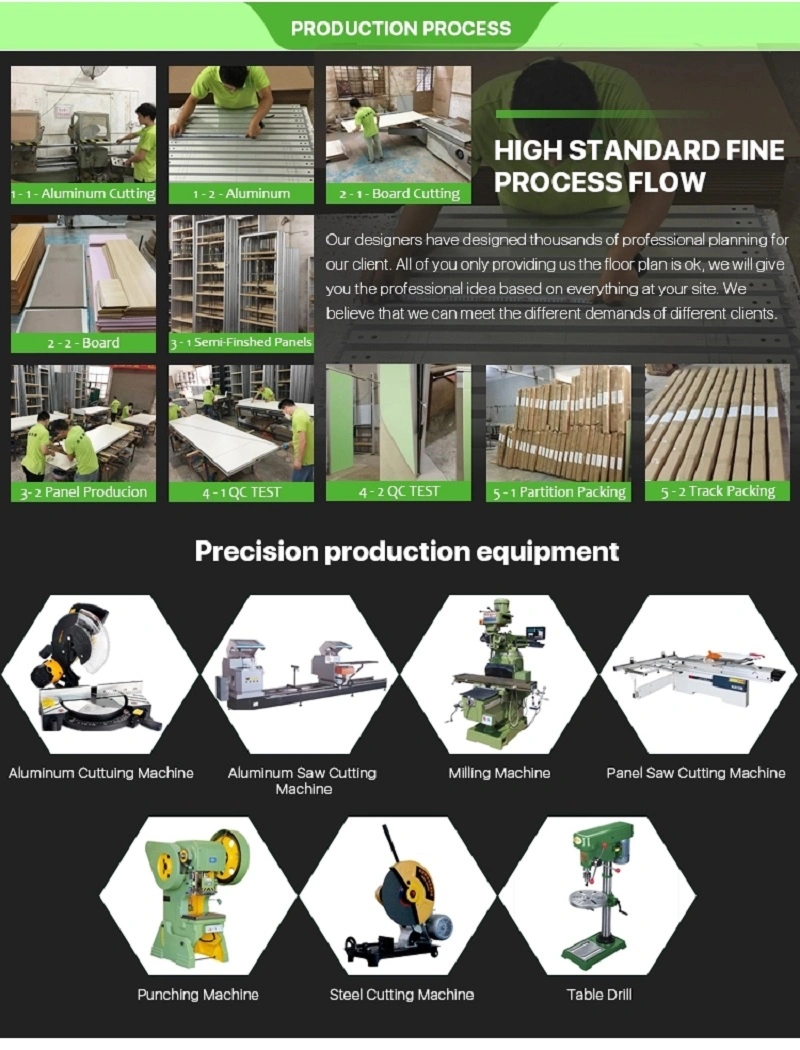 3.FAQ
(
1). What does the Movable Partition Wall use for?
They are the creative way to add flexibility and functionality to your space.extensively applied to star hotels, meeting rooms, ballrooms, clubs, banquet hall, convention centers, multi-function halls, training rooms and other facilities.
(2). Have your partition wall products come in standard sizes?
No, actually all of our movable partition wall sizes are supported customized. The panels move on the ceiling track with no floor track.
(3). How long does it take to install a partition system?
We will provide a detailed schedule on receipt of the order and keep everything updated regularly on progress. The time depends very much on the site and anything which we try to meet wherever possible.
(4). Can you give us an initial indication of the cost of a particular system?
Yes. we can. We would need more information and possibly a site visit and survey before confirming and exact price.
(5). Do I need to have an architect or building contractor?
Usually, we only offer the site supervision service. if you are already using another contractor for other work then we can work with them to ensure a smooth process.
(6). Do I need to provide technical information or drawings?
Yes, we need it. If you already have technical information or drawing then we can use them to build and install the selected
products.
(7). Are your products guaranteed?
Yes, all of our products carry a full 3 Year guarantee, covering all parts and defects. We can also provide an extended warranty if require and the products are expected to last a lifetime.