KuStar
KuStar helping you design visually stunning, acoustically-controlled spaces for creative, productive living, working and play. With ceiling-hung 3D acoustic panel, you can transmit your design values while helping room occupants communicate freely and creatively. The diamond facets deflect sound waves while the Kingkus acoustic panel surface absorbs sound, reducing echo and controlling noise.
Product details
| | |
| --- | --- |
| Product Type: | 9mm /12mm 100% polyester fibre acoustic panels |
| Material: | 100% polyester fiber. Containing a minimum of 75% recycled |
| Surface Type: | Smooth and can be kept for five years |
| Technics: | Does not contain any Red List chemicals |
| Feature: | Safe, non-toxic, non-irritant and non-allergenic |
| Density: | 1900g/sqm(211kg/m3) for 9mm in stock. 2300g/sqm(190kg/m3) for 12mm in stock. |
| Color: | 35colors |
| Size: | 791.89*457.2*139.7(Thickness)mm |
NRC (SOUND ABSORPTION RATING): SGS
While all Kingkus Acoustic Panel products offer varying degrees of sound absorption, not all have been tested for NRC using the SGS standard test method for sound absorption.
Fire Rating
SGS class B (Class A treatment available)
Available colors
Refer to Kuspanel Standard Colors
Size
791.89*457.2*139.7(Thickness)mm
Packaging
Carton Size: 930*810*295mm
G.W.: 10KGS
Quantity: 5 PCS per Carton
Installation and Hardwares
KuStars can be ceiling hung using cable and appropriate ceiling mounts. The suspension clamps have been installed at the back, and three lifting ropes are used to connect the ceiling and Kustars(1 m, 1.5 m, 2 m and 2.5 m ropes are available)
Joiners are used to unify kuStar clusters at each adjoining flat edge where two kuStars meet. When ordering multiple KuStar units to be hung in groups, order one Joiner bracket for each pair of edges where kuStars meet.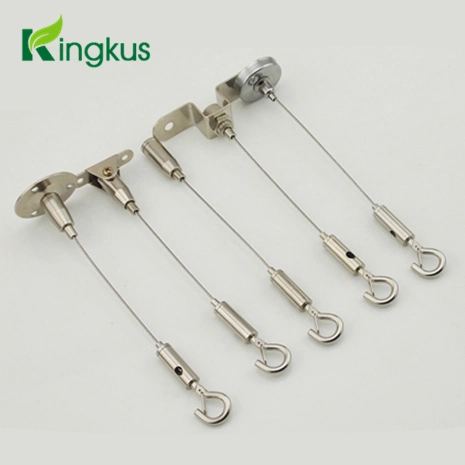 Cases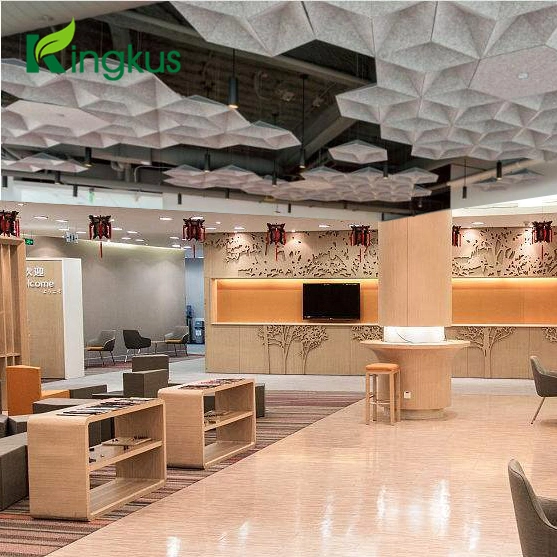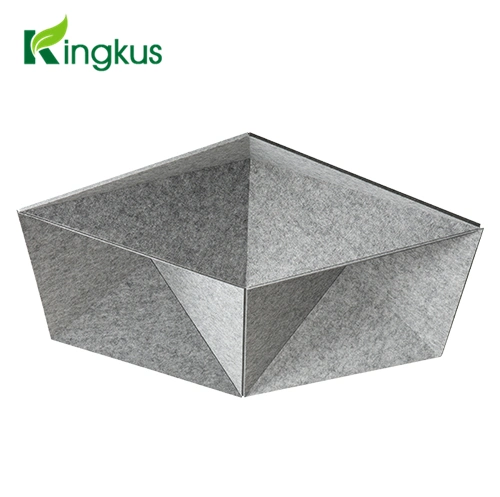 Key words:acoustic panel acoustic board acoustic wall panel acoustic ceiling panel soundproof panel soundproof acoustic panel acoustical panel Acoustical Wall Solution sound proof panel acoustic ceiling baffles acoustic panels soundproofing acoustic sound panels acoustic material sound absorption panels Customed acoustic panel Polyester fiber acoustic panel Polyester acoustic panel Non-Woven panel Polyester acoustic felt PET acoustic panel carved acoustic panel 3D PET panel 3D cube panel Printing polyester panel 3D polyester panel embossed polyester panel wooden panel wooden acoustic panel wood board Grooved acoustic panel Perforated acoustic panel Micro wooden panel acoustic wood panel MDF acoustic panel wood wool acoustic panel wood wool cement board wood fiber panel shaped wood panel Fabric acoustic panel Wrapped acoustic panel acoustic diffusor diffusor panel acoustic PET screen acoustic furniture Acosutic screen acoustic panel shanghai acoustic panel suzhou acoustic panel changshu acoustic panel in China